Leaving California, Moving to Oklahoma: A Step of Faith for ORU's Matthew Hanna
Matthew Hanna
Hometown: Anaheim, California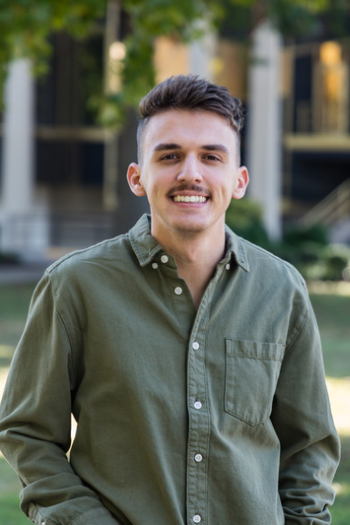 Many high school students have a narrow college list, one that's limited by heritage, familiarity, or location. This doesn't mean you won't find the perfect fit on your list; however, it does mean that without searching, you might get locked into the typical college experience. For ORU's Matthew Hanna, the typical college experience was his first choice, but God moved in Matthew's life, opening his eyes to a different kind of college experience.
"I had a soccer scholarship to a college in California," Matthew said, "and I wasn't even thinking about ORU. But I began working with the Circuit Riders, which is a missions movement for young people. Through them, I met several ORU graduates who were helping spread the Gospel to colleges and communities. Those relationships impacted me, and after that, the Lord told me I'd be moving to Oklahoma and going to ORU."
A Big Move Leads to Big Growth
In choosing ORU, Matthew was drawn to the ORU experience, a university experience that places importance on spiritual growth in a college environment. For Matthew, it meant leaving California and moving to Oklahoma, a place he'd never been to. He'd never seen the ORU campus, and Tulsa, ORU's hometown, was nearly 1400 miles from his friends and family. It was, as Matthew calls it, a "step of faith."
"My friends," Matthew said, "joked that I was going to a state full of cowboys, but really, I came to a university where I can grow in my spirituality and beliefs. From step one, it's been a faith journey, and coming to ORU has only poured more fire on my dependence upon God."
Part of Matthew's growth at ORU can be attributed to the University's expanding community, which has reached historic numbers over the past two decades. This fall, for the 14th consecutive year, enrollment grew, with the student body exceeding 5,000 students for the first time in ORU's history. And with this growth, ORU has become one of the most diverse universities in America, being named Oklahoma's "Most Diverse College" for 2023 (Niche).
"In California, I went to a private high school," Matthew said, "and I was surrounded by people of faith, but some of that was just on the surface. At ORU, I'm surrounded by a community of people who are deepening their beliefs. Here, you don't have to look far to find students who are all in for God. Like me, there are students who took a step of faith in coming to ORU, and now, they're growing into firebrands for the Gospel."
Returning to California as a Different Person
Now in his senior year, Matthew, a ministry leadership major, thinks back to the person he was before coming to ORU. That person, he says, was always a person of faith, but the person he is today now has a deeper connection with God. That connection he attributes to his education at ORU, where he's been exposed to professors and people who live and learn in God's presence.
"Back home," Matthew said, "I encountered people who talked about God like they were talking about insurance. It's not like that at ORU, and since coming here, I've become so much more aware of God, more aware of His voice, more aware of things happening when you grow your relationship with the Holy Spirit. ORU helped me dig deeper into my faith, and I saw this when I went back to California to play in an alumni soccer game. Back at my old high school, I was aware of the Lord. I felt His presence on the soccer field, and that's something I never used to experience."
ABOUT ORAL ROBERTS UNIVERSITY
ORU is a Christian, Spirit-empowered, interdenominational university in Tulsa, Oklahoma, with over a decade of consecutive enrollment growth. Regionally accredited by the Higher Learning Commission, ORU offers over 150 majors, minors, concentrations, and pre-professional programs at the bachelor's level, ranging from business and engineering to nursing, ministry, and more. Under the leadership of President Dr. William Wilson, ORU is preparing students from all 50 states and 142 nations (from 2019 to 2022) to be whole leaders for the whole world.
The Wall Street Journal ranked ORU as the #4 university in the nation for student engagement. This ranking is based upon faculty interactions, collaborative learning, critical thinking, real-world applications of student learning, the extent to which classes challenge students, and whether students would recommend a university to others. Niche recognizes ORU as one of the most diverse colleges in America.
ORU has been ranked by U.S. News & World Report as:
#1 in Undergraduate Teaching
#2 in Most International Students
#3 in Best Value
#6 in Best College for Veterans
#7 in Best Regional Colleges in the West
For more information, visit www.oru.edu.