Los Angeles Didn't Have the University Experience Lorenz Ross Was Searching for, but He Found It—and a Family—at ORU
Lorenz Ross
Hometown: Los Angeles, California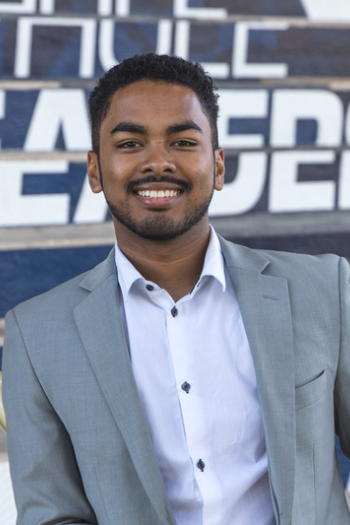 ORU's Lorenz Ross calls his college story "two suitcases and a dream" because when he came to ORU, that's all he had.
"I went to a large public school in Los Angeles," Lorenz said, "and as a senior, I started looking at Christian universities. In high school, I made some poor decisions and found myself in toxic relationships so I began searching for a college where I could grow and start something new."
But Lorenz wanted more than just a Bible college; he wanted a true university experience, one that was grounded in a Christian worldview. Lorenz was searching for a campus that focused not only on faith but also on student life.
"I looked at different colleges," Lorenz said, "and I wanted a place where I could find both purpose and fun. That's the experience I found at ORU. Here, there's a faith culture that aspires to change the world. At the same time, students do all the things you'll find at a non-Christian university … we pack the stands for basketball games, we watch the Super Bowl together … there's intramurals and there's dorm life where you meet your best friends."
Finding a Family on a Championship Team
In 2021, ORU men's basketball was America's most-talked about team, becoming, at the time, just the second No. 15 seed to advance to the Sweet 16. Athletics was part of the university experience Lorenz had been looking for, and as a team manager, he joined the basketball team on their historic NCAA Tournament run.
"Being part of the basketball program," Lorenz said. "I found purpose in doing laundry, in filling up water bottles, and in rebounding during practices. I found so much purpose in all of that. I was blessed to be able to travel with the team, and I formed some life-changing relationships through ORU basketball."
These relationships and others have been important to Lorenz's growth at ORU. Since leaving Los Angeles and coming to ORU, Lorenz says he's learned how to be faithful, and he's discovered what real accountability looks like. Lorenz points to the ORU community as essential to what he's learned, along with the ORU coaches who have mentored and guided him.
"At ORU," Lorenz said, "we follow an Honor Code, but to live it out, I needed a community to hold me accountable and help me stay focused. It sounds like a cliché, but ORU's community of students is so important here. And in the basketball program, I found a community of incredible coaches,* including Coach Mills, who ended up being my biggest supporters and the biggest influences in my life. They treated me like family."
Reaching Students as a Speaker and a Recruiter
The ORU community has been an influence on Lorenz's life, but Lorenz has been an influence on the ORU community too. As a senior, Lorenz had the opportunity to participate in ORU's Preach-A-Thon, a yearly event that allows students to take the Chapel stage and address ORU's student body. Preach-A-Thon is part of ORU's leadership experience, which will soon expand with the addition of the David and Barbara Green Centre for Global Leadership.
"Preach-A-Thon," Lorenz said, "gave me the opportunity to speak live to nearly 5000 students and however many thousands of people were watching online. My moment on stage was just a blur, but I felt the Holy Spirit leading me as I shared my message. It was a really cool moment, and to this day, I meet students who say 'You're that guy who preached at Chapel.'"
Currently, Lorenz is pursuing his masters at ORU while, at the same time, working in ORU's Admissions Department. As an Admissions representative, Lorenz focuses on California where he's helping high school students discover a campus that supports spiritual growth and student life. What started as "two suitcases and a dream" for Lorenz has now become his opportunity to fulfill the dreams of others.
"When I tell high school students about ORU," Lorenz said, "I explain to them that academics and growth are both part of the ORU experience. At ORU, part of your time will be studying, but the other part of your time will be growing. Here, you learn to become the best version of yourself, not just the best version of your degree. This University has the power to refine and transform you. Wherever you are in your life, if you come to ORU, the Lord's gonna meet you here."
*Lorenz would specifically like to thank Coach Patterson, Coach Springmann, Coach Upshaw, Iain Laymon, and Duncan White for the impact they've had on his life.


ABOUT ORAL ROBERTS UNIVERSITY
ORU is a Christian, Spirit-empowered, interdenominational university in Tulsa, Oklahoma, with over a decade of consecutive enrollment growth. Regionally accredited by the Higher Learning Commission, ORU offers over 150 majors, minors, concentrations, and pre-professional programs at the bachelor's level, ranging from business and engineering to nursing, ministry, and more. Under the leadership of President Dr. William Wilson, ORU is preparing students from all 50 states and 142 nations (from 2019 to 2022) to be whole leaders for the whole world.
The Wall Street Journal ranked ORU as the #4 university in the nation for student engagement. This ranking is based upon faculty interactions, collaborative learning, critical thinking, real-world applications of student learning, the extent to which classes challenge students, and whether students would recommend a university to others. Niche recognizes ORU as one of the most diverse colleges in America.
ORU has been ranked by U.S. News & World Report as:
#1 in Undergraduate Teaching
#2 in Most International Students
#3 in Best Value
#6 in Best College for Veterans
#7 in Best Regional Colleges in the West
For more information, visit www.oru.edu.