A College Experience that Pushes Your Faith: Why Dancer Emma'lee Hashaway Chose ORU
Emma'lee Hashaway
Hometown: Frisco, Texas
Area of Study: Dance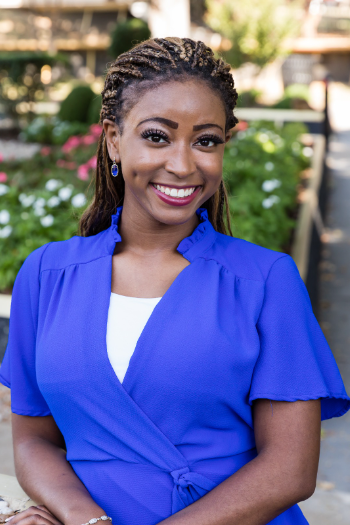 Performing professionally and teaching young artists … this is what ORU's Emma'lee Hashaway plans to do after graduation. A native Texan and lifelong dancer, Emma'lee dreams of performing professionally. A passionate artist and teacher, Emma'lee plans to someday open her own dance studio.
"I grew up close to the Dallas Cowboys' practice facility," Emma'lee said, "and while I was in high school, I had the opportunity to work with some of the Dallas Cowboys Cheerleaders. Once I graduate, I plan to audition with a professional dance team. After that, I'll open a studio in Texas, which is why I'm majoring in dance with a concentration in management. At the same time, I'm also working on my fast-track MBA."
The ORU Experience: A Place to Grow Your Faith
Artists like Emma'lee are benefitting from ORU's unwavering mission to produce the highest quality education and training for next-gen artists. Currently, ORU is constructing a new 78,000 square foot Media Arts Center which will house the University's growing theatre, dance, music, and digital media departments. This new building is part of a four-building expansion that will add over 177K sq ft of new space to the ORU campus. As an artist, Emma'lee says ORU's commitment to the arts is important, but it's not the reason why she chose ORU over other universities.
"ORU does a great job of giving us ways to use dance as a form of worship. Here, I can express myself, and when I'm dancing, I can let everything go, allowing God to use me through my art."
Emma'lee Hashaway
"I wanted to go to school in Texas," Emma'lee said, "but then I visited ORU and attended a Chapel service. While I was there, I saw students seeking God the way I was seeking Him, and I felt like I'd found a home. After that, I realized I needed a college experience that pushed my faith. Since coming to ORU, I'm a whole different person than the person I was. With all the spiritual growth I've experienced, my mom and my sister have both noticed a change in me."
At ORU, Emma'lee has not only grown in her faith, she's also found a family in her professors. For consecutive years, the Wall Street Journal/Times Higher Education ranked ORU as one of the Top 10 most engaging universities in America. At ORU, classroom engagement is different from other universities because the professors not only care for you, they prayerfully give support.
"My professors are there for me whenever I need them," Emma'lee said. "They talk to me and pray with me. They make it a goal to know my name which is important because I don't want to feel like a no-name student in class. In fact, as a junior in high school, I came here for my dance audition, and everybody in the dance class already knew my name. I didn't know who they were, but they already knew who I was."
A Dance Experience that Celebrates Your Spirituality
With ORU's long-term commitment to the arts, Emma'lee has seen interest growing in ORU's dance program. Like the University as a whole, ORU's dance program sets itself apart from other college programs by incorporating faith into its curriculum. As an ORU dancer, Emma'lee says she's receiving the intensive training she needs to keep up with dance's evolving techniques. However, she's also experiencing the freedom to explore her faith through artistic expression.
"A lot of the dances at ORU are wrapped around faith in some way," Emma'lee said. "A dance might be about the Father, Son, and Holy Spirit or how our connection to God shapes lives in different ways. In class, we do movement-based prayers, and we listen to Scripture while expressing the words through our actions. ORU does a great job of giving us ways to use dance as a form of worship. Here, I can express myself, and when I'm dancing, I can let everything go, allowing God to use me through my art."
ABOUT ORAL ROBERTS UNIVERSITY
ORU is a Christian, Spirit-empowered, interdenominational university in Tulsa, Oklahoma, with over a decade of consecutive enrollment growth. Regionally accredited by the Higher Learning Commission, ORU offers over 150 majors, minors, concentrations, and pre-professional programs at the bachelor's level, ranging from business and engineering to nursing, ministry, and more. Under the leadership of President Dr. William Wilson, ORU is preparing students from all 50 states and 142 nations (from 2019 to 2022) to be whole leaders for the whole world.
The Wall Street Journal ranked ORU as the #4 university in the nation for student engagement. This ranking is based upon faculty interactions, collaborative learning, critical thinking, real-world applications of student learning, the extent to which classes challenge students, and whether students would recommend a university to others. Niche recognizes ORU as one of the most diverse colleges in America.
ORU has been ranked by U.S. News & World Report as:
#1 in Undergraduate Teaching
#2 in Most International Students
#3 in Best Value
#6 in Best College for Veterans
#7 in Best Regional Colleges in the West

For more information, visit www.oru.edu.