ORU's New High-Performance Digital Enterprise Lab
FOR IMMEDIATE RELEASE: Thursday, Sept. 2, 2021
CONTACT: Dr. Charles Scott, Vice President of External Affairs, Office: 918.495.6228, Cell: 417.291.6335, cscott@oru.edu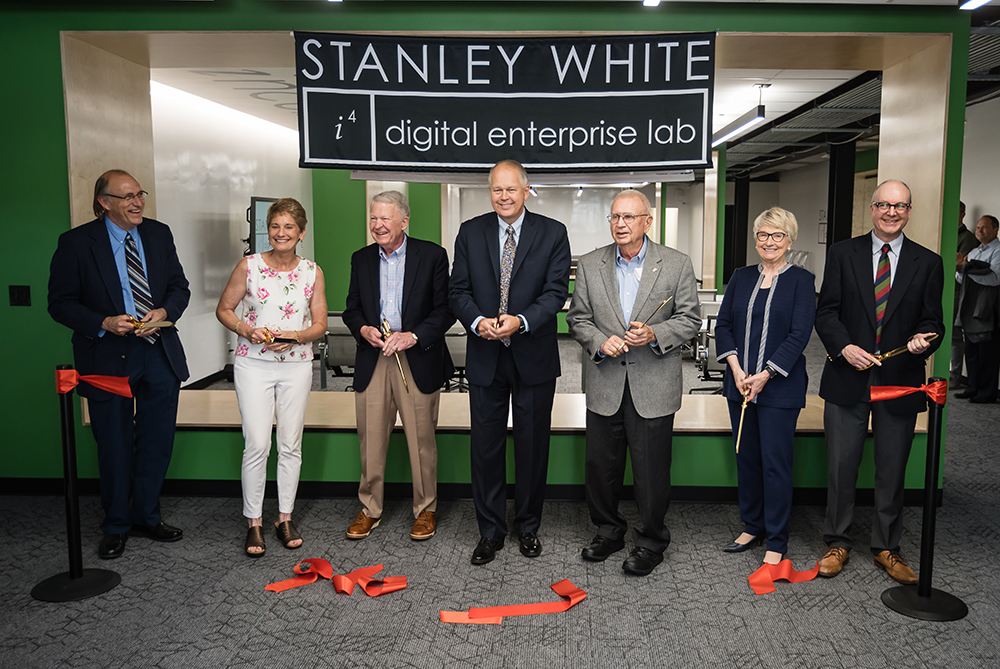 TULSA, Okla.—On August 19, 2021, Oral Roberts University (ORU) held a ribbon-cutting ceremony to mark the completion of the Stanley White i4 Digital Enterprise Lab. The lab launches a new era for ORU's computing and mathematics students.
Students in ORU's College of Science and Engineering returned to campus for the Fall 2021 semester to find the new state-of-the-art lab in their department. The lab's creative spaces are designed for students to brainstorm and put their ideas to the test using ORU's supercomputer, Titan, which is housed next door.
ORU President William M. Wilson stated, "At Oral Roberts University, we are committed to providing the very best facilities to educate our students at the very highest level, and this new lab exemplifies ORU's academic excellence."
"The opening of the Stanley White i4 Lab represents a significant advancement of learning opportunities," said Dr. Kathaleen Reid-Martinez, ORU's Chief Academic Officer. "This will empower our students in four very specific ways, advancing their abilities to imagine, innovate, incubate, and impact."
Those four words—imagine, innovate, incubate, and impact—emblazon the walls of the new lab. Students will now have access to state-of-the-art technology, areas for tutoring and study groups, whiteboard walls, and more. ORU administration believes the problems that can now be studied and addressed are virtually endless.
"ORU is a place where we learn to hear God's voice and partner with what He's doing on the earth," said computing and mathematics student Gladys Chen. "It's really exciting to see ORU make this investment in the next generation and provide this lab where we can work with our professors, do cool science data research, and be part of spiritual life."
"I was completely floored with how beautiful it is," ORU math student Austin Lehman added.
"The i4 Lab is designed for students to interact and collaborate," said Dr. Andrew Lang, Chair of ORU's Computing and Mathematics Department. "It's going to make a huge impact on our students."
# # #

ABOUT ORAL ROBERTS UNIVERSITY
ORU is an interdenominational Christian Spirit-empowered university located in Tulsa, Oklahoma. It is regionally accredited by the Higher Learning Commission. Under the leadership of Dr. William Wilson, ORU is preparing its students spiritually, mentally and physically to be whole leaders for the whole world. It offers over 150 majors, minors and pre-professional programs ranging from business and biology to engineering, nursing, ministry, and more.
ORU is ranked by U.S. News & World Report as

• #1 Best Value Regional College in the West
• #1 in Undergraduate Teaching
• #3 in Best Colleges for Veterans
• #5 in Best Regional Colleges in the West

The Wall Street Journal ranks ORU as the #5 university in the nation for student engagement, which measures interaction with faculty, collaborative learning, critical thinking, how the university supports students applying what they learn to the real world, the extent to which classes challenge students, and whether they would recommend the school to others.

For more information, visit www.oru.edu.