ORU Celebrates the Groundbreaking of the Mike Carter Athletic Center
For Immediate Release: Nov. 12, 2021
Contact: Scott Slarks (sslarks@oru.edu)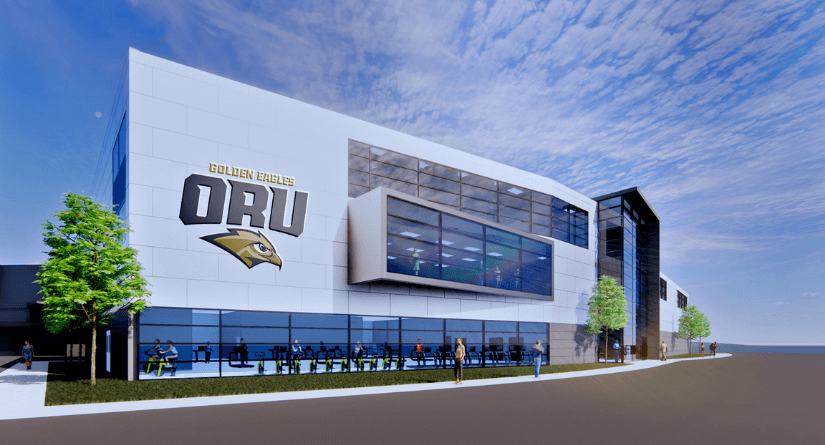 TULSA, Okla.—The Oral Roberts University Athletic Department broke ground on the new Mike Carter Athletic Center Friday, Nov. 12. It is the third of four new buildings to begin construction on the growing campus.
"This is truly a transformational day for ORU Athletics," Athletic Director Tim Johnson said. "This Athletic Center will be the cornerstone for the future of the athletic department and will impact every student-athlete for years to come. ORU's athletic facilities will be among the best in the country while providing our student-athletes all the resources to compete and win at the highest levels. We cannot thank the ORU Board of Trustees, our donors, and President Wilson enough for their commitment to athletics and our student-athletes. The future is now for ORU Athletics!"
The Mike Carter Athletic Center is estimated to cost more than $15 million and will be built debt-free. The building will be located on the southeast side of the Mabee Center, and construction will take approximately 18 months to complete. The facility will house a 10,000-square-foot sports performance area with turf and a fueling station, allowing multiple teams to train at the same time. A new Eli Academic Center will have open study space as well as individual and group study rooms and a team room large enough for 100 people. In addition, two full-size practice courts are being built for the men's and women's basketball teams, along with administrative and coaches' offices.
"The Mike Carter Athletic Center exhibits the excitement surrounding ORU athletics," ORU President Dr. William M. Wilson said. "This facility will provide a quantum leap forward for our program. Our student-athletes will continue to develop in their sport and in all aspects of their academic life. The new athletic center is a message to the elite student-athlete: there is no place like ORU."
The building's namesake is in honor of the service by former Athletic Director Mike Carter. Hired initially at ORU on Nov. 4, 1994, Carter was the fourth-longest tenured athletic director running a NCAA Division I program at the time of his retirement. He guided the Golden Eagles to nine Commissioner's Cups, winning 153 regular season and tournament titles, and sent 84 teams to NCAA Championships, including ORU's historic run to the NCAA Sweet 16 in March 2021.
ORU Athletics has shown tremendous growth and the Mike Carter Athletic Center will be at the forefront of its move into the future. ORU has already made significant upgrades to the Mabee Center consisting of new blue seats and arena lights, a new sound system, and exterior paint and glass to match the current look of the campus in order to enhance the fan experience.
Over the last five years, ORU has made extensive additions and improvements to its campus. Construction of the Global Learning Center, the Nursing and Engineering Complex, the Stovall Center for Entrepreneurship and Niko Njotorahardjo Hall have all been completed, while a new Welcome Center, Media Arts Center, and the J.D. McKean Library are in various stages of planning and construction.
For the latest information on ORU Athletics, follow the Golden Eagles on Facebook, Twitter and Instagram, or go to www.ORUAthletics.com. Fans can also receive updates on the team by downloading the ORU Athletics app from the App Store or Google Play Store.
###
ABOUT ORAL ROBERTS UNIVERSITY
ORU is an interdenominational, Christian, Spirit-empowered university located in Tulsa, Oklahoma. It is regionally accredited by the Higher Learning Commission. Under the leadership of President William Wilson, ORU is preparing its students spiritually, mentally, and physically to be whole leaders for the whole world. ORU offers over 150 majors, minors and pre-professional programs ranging from business and biology to engineering, nursing, ministry and more. Students represent all 50 states and 126 nations. ORU has attained 13 consecutive years of enrollment growth.
The Wall Street Journal ranked ORU as the #4 university in the nation for student engagement. This ranking is based upon faculty interactions, collaborative learning, critical thinking, real-world applications of student learning, the extent to which classes challenge students, and whether students would recommend a university to others.
ORU is ranked by U.S. News & World Report as
#1 in Undergraduate Teaching
#2 in Most International Students
#3 in Best Value
#6 in Best College for Veterans
#7 in Best Regional Colleges in the West
For more information, visit www.oru.edu.