ORU Announces 13th Consecutive Year of Enrollment Growth
FOR IMMEDIATE RELEASE: Sunday, Sept. 19, 2021
CONTACT: Dr. Charles Scott, Vice President of External Affairs, Office: 918.495.6228, Cell: 417.291.6335, cscott@oru.edu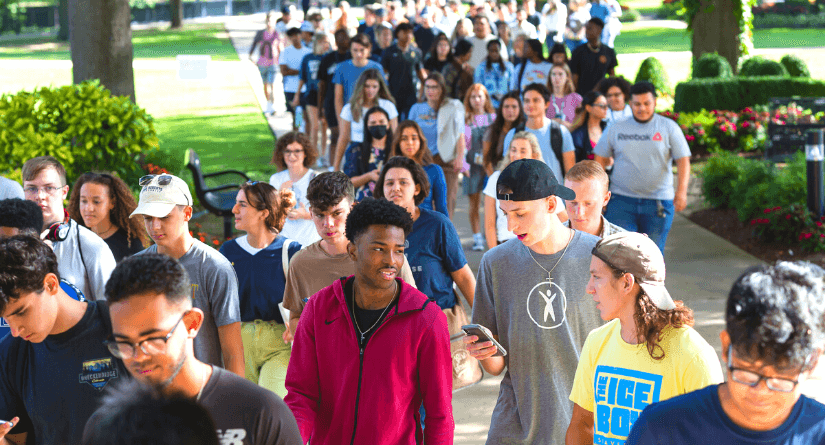 TULSA, Okla.—For the 13th consecutive year, Oral Roberts University (ORU) has announced an increase in enrollment for its incoming fall class. ORU officially welcomed 4,753 students for the Fall 2021 semester, an increase from 4,303 in 2020. With an over 10 percent surge in student enrollment, this marks the largest year-over-year recorded percentage growth at ORU in over 25 years. These historic numbers also include ORU's largest classes ever both for graduate enrollment and online enrollment.
"We are excited about this wonderful growth in ORU's student population," said ORU President Dr. William M. Wilson. "Most importantly, this year we have grown in our full-time undergraduate residential population while continuing to see record growth in our online, graduate, and dual enrollment programs. The international scope of our work also continues to expand as ORU focuses on being a global University having a home base in Tulsa, Oklahoma, with 125 nations in our student body this year. These are exciting times at ORU!"
The Fall 2021 freshman class and the full-time incoming class are the second largest classes in the last 15 years. Additionally, the number of students retained for residential programs reached 89%, which is the highest achieved within the last 5 years. Once again, ORU enrolled new students from all 50 states, plus Bermuda, Guam, and the Turks and Caicos Islands. ORU also offered the Quest First Scholarship, a new scholarship for first generation college students.
ORU's Assistant Vice President of Enrollment Management - Residential, Alison Vujnovic, had this to say about ORU's record numbers: "These historic statistics show how ORU has positioned itself as a top-tier university. It has been an extraordinary year for us and we give God the glory. We've seen student balances zeroed out, long-lasting barriers broken, and our incredible students have thrived in the midst of the pandemic. These students have proven just how resilient they are when navigating difficult waters, and our bold vision for the future continues to grow. With our growing enrollment and our thriving campus community, the University is making a successful push into the future."
Not only is ORU experiencing significant enrollment growth, but the physical campus is also growing in order to better serve the next generation of Spirit-empowered students. Along with a new Welcome Center, which is currently under construction, the University is also adding a new Media Arts Center, a new athletic center, and a new high-tech library that will house the Holy Spirit Research Center.
According to President Wilson, "ORU is focused on developing Spirit-empowered leaders, and to do that we must keep growing and expanding our campus so that our students graduate from ORU ready to leave an indelible impression across the globe, in every sphere of influence. The class of 2025 is historic, and that is no accident. This is a special class of students and the next four years with them at ORU will be amazing."
The top five majors are Nursing, Engineering, Business Administration, Psychology, and Ministry and Leadership. The top five represented states are: Oklahoma, Texas, California, Colorado, and Missouri.
###
ABOUT ORAL ROBERTS UNIVERSITY
ORU is an interdenominational Christian Spirit-empowered university located in Tulsa, Oklahoma. It is regionally accredited by the Higher Learning Commission. Under the leadership of Dr. William Wilson, ORU is preparing its students spiritually, mentally and physically to be whole leaders for the whole world. It offers over 150 majors, minors and pre-professional programs ranging from business and biology to engineering, nursing, ministry, and more.
ORU is ranked by U.S. News & World Report as
• #1 Best Value Regional College in the West
• #1 in Undergraduate Teaching
• #3 in Best Colleges for Veterans
• #5 in Best Regional Colleges in the West

The Wall Street Journal ranks ORU as the #5 university in the nation for student engagement, which measures interaction with faculty, collaborative learning, critical thinking, how the university supports students applying what they learn to the real world, the extent to which classes challenge students, and whether they would recommend the school to others.

For more information, visit www.oru.edu.