Breaking Ground at ORU: ORU's New Welcome Center
Oral Roberts University is redefining leadership in the 21st century through its Whole Leaders for the Whole World (WLWW) campaign. The campaign, part of ORU's aggressive growth as a leadership university, will add three new buildings to campus: a Welcome Center, a Media Arts Center, and a high-tech library that houses the Holy Spirit Research Center (HSRC). The new buildings will add innovative technologies, academic programs (both residential and online), and boost faculty resources to prepare leaders for global engagement.
"ORU is focused on developing Spirit-empowered leaders, and to do that we must keep growing and expanding our campus, giving our students unique opportunities to lead all over the world," said ORU President Dr. William M. Wilson.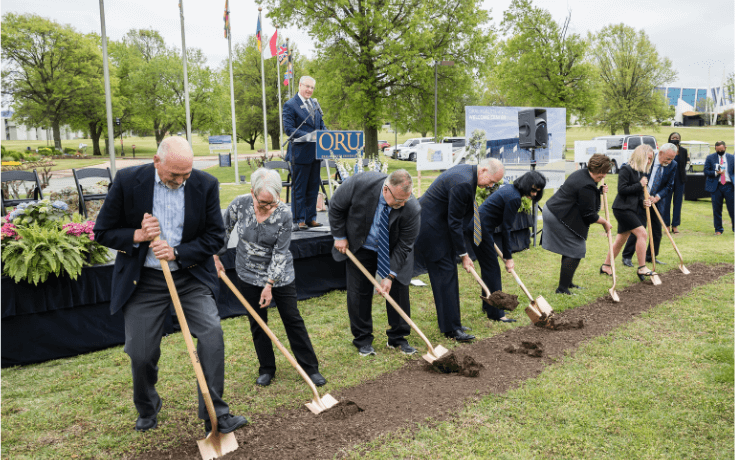 On April 14, ORU broke ground on the first building in the WLWW campaign, ORU's new Welcome Center. This state-of-the-art building will stand at the entrance of campus and serve as an introduction to ORU, the nation's premier, Spirit-empowered University.
The Welcome Center will house ORU's Enrollment team, providing convenient access for prospective students to meet with Admissions counselors, arrange campus tours, and learn more about Spirit-empowered leadership. The Welcome Center will also feature a dedicated venue to support student veterans in their higher education journey and career path. The new Veterans Experience office will serve as a liaison and advisor to military-affiliated students, helping them navigate education benefits and ensuring they have full access to information, assistance, and post-graduate guidance.
Joining President Wilson and First Lady Lisa Wilson in breaking ground were Dr. Mike Rakes (Chair, Board of Trustees), Dr. Nancy Brainard (Vice President, Enrollment Management), David Short (Managing Principal, KSQ Design), Mackenzie Buhr (President, Student Association), and alumnus Jim and Donna Stuck, who made the lead gift for the Welcome Center.
Construction on the Welcome Center commences in June and is expected to conclude in June of 2022.