How "Taste Testing" Technology Is Transforming ORU's Student Experience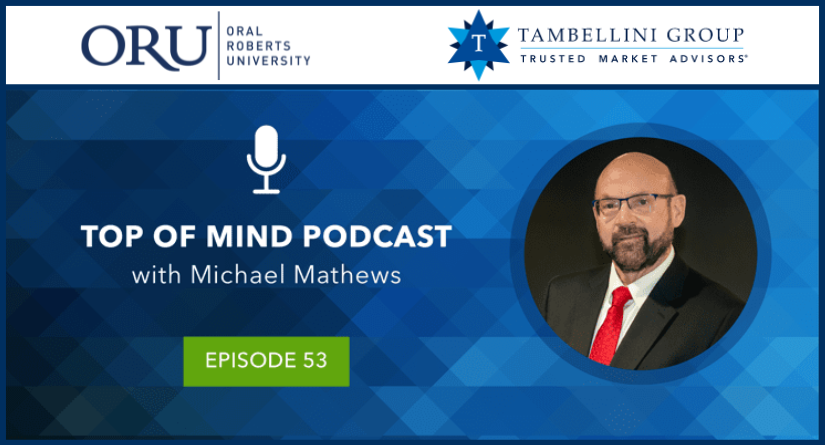 Tulsa, Okla.— Michael Mathews, Oral Roberts University's (ORU) Vice President of Global Learning and Innovation, recently joined the Tambellini Group's Top of Mind podcast to discuss ORU's smart campus and its impact on the future of higher education. During the discussion, Mathew's explained his idea of "taste testing" technology which allows the University's students to get a "taste" of technology the moment they arrive on campus.
"ORU is transformative and leading by example in developing a modern, student-centric campus," said Mathews. "With a goal to survive and thrive in a digital world, students have the opportunity to 'taste-test' technology that's focused on their needs on our campus."
With a career outcome rate of 99.74%, ORU students are highly sought after and trained to be technologically advanced in the workplace. To better serve students, ORU made recent expansions and improvements to its campus, including new buildings, innovative technologies, academic programs (both residential and online), and faculty resources to prepare Spirit-empowered leaders for global engagement.
"It's clear," said Elizabeth Farrell, the host Top of Mind, "that institutions like ORU are a beacon of success in building campuses to serve 21st-century students, both in their educational and career preparation journeys. ORU has strong support from their top leadership, and a unified vision across campus."
ORU's digital ecosystem is creating a campus where students can study in technologically advanced spaces. Annually, the Global Learning Center (GLC), the University's technology hub, hosts education executives, Fortune 1,000 companies, and technologists from all over the world. With ORU's large, international footprint, the GLC is enhancing global learning with on-going advancements, including:
Global Learning & Teleportation Classroom
Virtual Reality Classroom
Global Innovation Collaboration Classroom
Instructional Class for Disabilities
Studio Classroom
High-Performance Computing Research Classroom
Distance Education Lab
Faculty Excellence and Learning Classroom
For information on ORU's Global Learning Center, please visit the GLC website.

ABOUT ORAL ROBERTS UNIVERSITY
ORU is a Christian, Spirit-empowered, interdenominational university in Tulsa, Oklahoma, with over a decade of consecutive enrollment growth. Regionally accredited by the Higher Learning Commission, ORU offers over 150 majors, minors, concentrations, and pre-professional programs at the bachelor's level, ranging from business and engineering to nursing, ministry, and more. Under the leadership of President Dr. William Wilson, ORU is preparing students from all 50 states and 142 nations (from 2019 to 2022) to be whole leaders for the whole world.
The Wall Street Journal ranked ORU as the #4 university in the nation for student engagement. This ranking is based upon faculty interactions, collaborative learning, critical thinking, real-world applications of student learning, the extent to which classes challenge students, and whether students would recommend a university to others. Niche recognizes ORU as one of the most diverse colleges in America.
ORU has been ranked by U.S. News & World Report as:
#1 in Undergraduate Teaching
#2 in Most International Students
#3 in Best Value
#6 in Best College for Veterans
#7 in Best Regional Colleges in the West
For more information, visit www.oru.edu.