A Mirror for Mental Health and Higher Ed
Innovation is intrinsic to ORU's Spirit-empowered culture, so the development of a high-tech design that shifts our approach to education and mental health isn't surprising.
Imagine a smart mirror that can help students who are struggling with depression, connect them instantly with a counselor, and even respond directly with professional mental health information. These incredible capabilities are now possible with the AI-enabled MQ Mirror developed by ORU.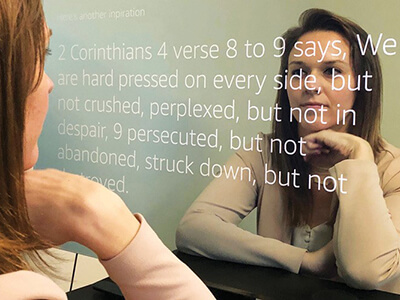 For ORU graduate Jessica Angsowine, the struggle with depression started early in high school and lasted for several years. "When you start struggling with depression, you start telling yourself a lot of lies–you aren't worthy enough, people don't like you–and pretty soon it becomes hard to function." Angsowine struggled most when she was alone and turned to music that reinforced her depression. She believes ORU's MQ Mirror has power to change the narrative for those dealing with depression.
The responsive MQ Mirror was designed so the focus would be on people instead of a device. It features an "encourage me" function and provides students with access to spiritual resources, including the Bible app and uplifting music. A student can ask questions like, "Who Am I?" and the mirror will respond with inspiration from the Bible. Because the mirror can be located in the student's personal space, support is available where they likely need it most. The mirror can also provide live help by connecting students to campus resources or with a counselor via video chat.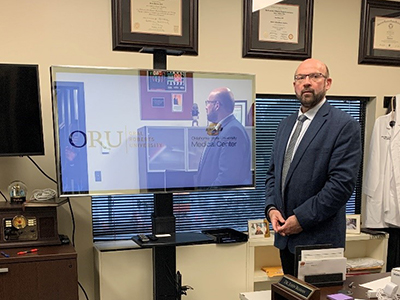 ORU's MQ Mirror is empowering the mental health field as well, where it can be programmed with the expertise of a professional to provide diagnostic screening and on-demand help. ORU teamed up with respected psychiatrist, Dr. Jason Beaman from the National Center for Wellness and Recovery, to program the first ever working PHQ-9 test. The Patient Health Questionnaire (PHQ-9) is a self-reporting tool that incorporates diagnostic criteria used to measure depression severity.
ORU's programming of the PHQ-9 paves the way for further advancements. Research is looking into the mirror's impact in specific areas of mental health, including addiction rehabilitation. In Europe and Asia, ORU's MQ Mirror is now being used to help abuse victims and in education.
Pastor Varney Firenyika Taylor, an ORU graduate who oversees 327 youth groups globally, sees the mirror as an opportunity to reach young adults. Taylor, a former professional rapper, recently created a song for ORU's MQ Mirror called "Reflection." The rap, which is about an image of perfection as the reflection of God, can be heard on the mirror.
ORU's MQ Mirror began with the idea of harnessing smart technology for higher education. Vice President of Innovation and Technology, Michael Mathews, along with ORU's AI software designer, Jesupelumi Wickliffe, and senior programmer, Larry Moss, initially created the mirror to function as a full-service concierge for ORU students and faculty.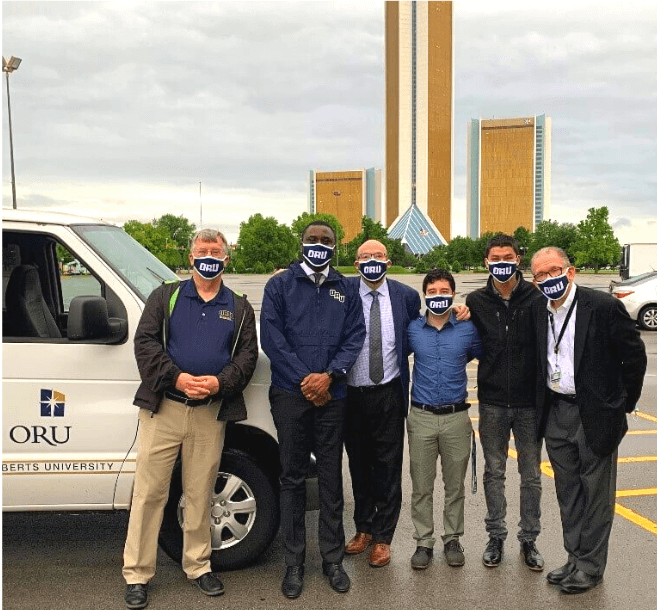 The mirror, which integrates a mini-processor, loT, Artificial Intelligence, digital assistants, and the University's entire digital ecosystem, has transformed the educational and campus experience. ORU Provost and Chief Academic Officer, Dr. Kathaleen Reid-Martinez, said, "The AI-enabled MQ Mirror is a major breakthrough that finally allows all the campus education systems to be integrated and provide my life-long dream of personalized and adaptive learning."
ORU's MQ Mirror enables students to audibly access all information related to their courses and projects, update to-do lists, track personal productivity and fitness, locate classes, and even order coffee for pick-up–without ever touching a screen. The digital assistant nudges students with important reminders and feedback, even learning from previous assignments to assist students with time management. The mirror is capable of engaging with all integrations of AI, machine learning, online instruction, social and personal skills, speech-to-text, and more.
ORU President, Dr. William Wilson, said, "The AI-enabled MQ Mirror has captured the attention of the education community, as it allows a fresh approach to serving students with vital educational information in both an audible and visual manner. We are proud to know this innovation has been designed right here at Oral Roberts University."
ORU is excited the MQ Mirror's state-of-the-art technology is not only benefiting higher education, but it's providing effective applications to the field of mental health as well.