ORU Debate Team Achieves Program-Best Finish
by Deborah Laker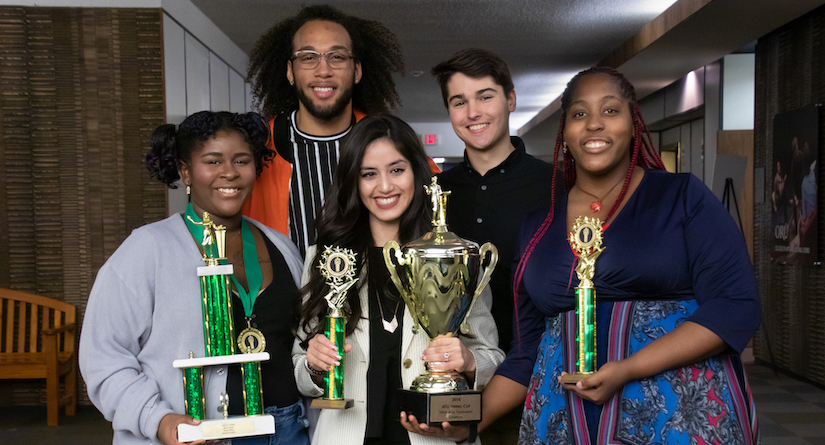 Recently the ORU Debate Team achieved a program-best finish at the Southern Forensics Championship, one of the largest super-regional speech and debate tournaments in higher education.
ORU was one of approximately 30 colleges and universities from across ten states that participated in the tournament, fielding four of the nearly 200 entries competing for the championship held at Mississippi State University.
Jonathan Naylor, a sophomore from Rockwall, TX, reached the final debate for the championship title. Though technically he still qualifies as a novice, Naylor moved up a division early for this tournament, seeking greater challenges among a more experienced and skilled field of competition.
"This was a tournament that demanded the very best," said Naylor. "The variety of topics led to each debater needing to be flexible while still confident. The important thing is to stay focused on each round as though it's the only one left."
Team Captain Karina Salcedo, a junior from Palmdale, CA, shared the following of her tournament experience: "The art of being able to craft and defend an argument is of vital importance not just professionally, but personally. I love debate because it not only teaches this, but it brings together groups of people that come from diverse backgrounds and opinions. Understanding others and analyzing the controversial has been a critical part of my personal development as a student and aspiring professional. The Southern Forensics Championship attracts some of the most advanced orators of this generation to practice this skill."
Salcedo received awards as an Octafinalist and runner-up for Best Overall Speaker in her division of Public Debate.
Amari Washington, a junior Ministry and Leadership major from Ama, LA , who also reached the octafinal round of competition added, "I would say one major benefit of debate is that it helped me become comfortable with public speaking, which is important to my goal of becoming a pastor."

"The support of the University is key to the team's success," said Assistant Debate Coach Molly Brown. "It is a real blessing to work with such capable students and to have the support of our University leadership whose direction ensures we are able continue traveling and competing in tournaments of this caliber."
Coach Dr. Agena Farmer said of that support, "Contributions from alumni and friends of the University, many coordinated by alumni, journalist, and author Bob Bonebrake, have provided us with the strong foundation needed to build a forensics program that competes with the best in the country."

The Southern Forensics Championship is the best measuring stick a program could wish for to gauge its potential performance at the International Public Debate Association National Championship Tournament later this semester, and based on their stellar performances, this group has an excellent chance of adding yet another award to their trophy case this March.
UPDATE (MARCH 4, 2020)
ORU's Debate Team had another great showing at the Oklahoma Intercollegiate Forensics Association championship tournament, held at Oklahoma City University February 29-March 1, 2020.
Five of the top ten debaters were ORU students, with Amari Washington placing 9th, while novice debaters Mark Mwangi and Sarah Altala-Nevarez placed in the top eight, reaching the quarterfinal round in their very first varsity debate.
Johnathan Naylor and Karina Salcedo reached the semifinal round after going undefeated in preliminary competition, and Salcedo was named the top speaker for the state of Oklahoma.
Pictured, left to right: Amari Washington, Polo Mann, Karina Salcedo, Jonathan Naylor, Haliyma Clay
Photo courtesy of: Matthew Simonson/Oracle