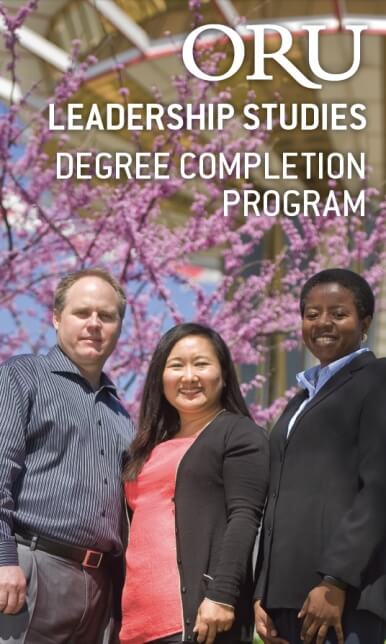 Bachelor of Science Degree
Even with your busy schedule, a world-class education at ORU is possible. ORU's Leadership Studies Degree Completion program is designed for working adults.
Whether you want to finish a degree you have already started, make yourself more marketable, or launch into a new career, this flexible, affordable and accelerated program can help you achieve your goals. The wisdom you gain at ORU enables you to make the most of your academic knowledge and professional skills, spurs your growth as a whole person, and helps you become a world-changer in any career.
This hybrid degree in Leadership Studies includes courses in the fields of Public Policy, Business, and Communications along with skill development courses such as Grant Writing, Policy Analysis, and Needs Assessment. Our accelerated and convenient Degree Completion program allows you to complete your degree:
In 12 - 18 months by utilizing all credits earned from other colleges and universities; through a fully online program, where all Leadership Studies courses run for seven weeks; and cost effectively, since program costs are approximately the same or in some cases less than other university degree completion programs (see Tuition and Fees link on this page).
ORU is fully accredited by the Higher Learning Commission and the Council for Christian Colleges & Universities. Students may be eligible for federal and state grant and loan assistance as well as outside scholarships and employer reimbursement programs.
View Tuition and Fees [BROKEN LINK]
Degree Requirements
General Education: 54 hours
Major Courses: 57 hours
Area #1
Business Ethics
Christian Leadership
Christian Worldview
Grant Writing
Leadership Studies Practicum
Needs Assessment and Program Evaluation
Organizational Communication
Principles of Management
Principles of Marketing
Public Administration
Public Policy Analysis
Senior Capstone in Leadership Studies
Training and Development
Area #2
Bioethics
Business and Professional Speech
Conflict Resolution
Discussion and Conference Leadership
Principles of Economics
Protocol and Diplomacy
Electives/Prior Learning: 17 hours
______________________________
Degree Total: 128 hours

Degree Plan Sheet

Contact
For more information, please visit Online Campus or connect with us by phone at 918-495-6363.