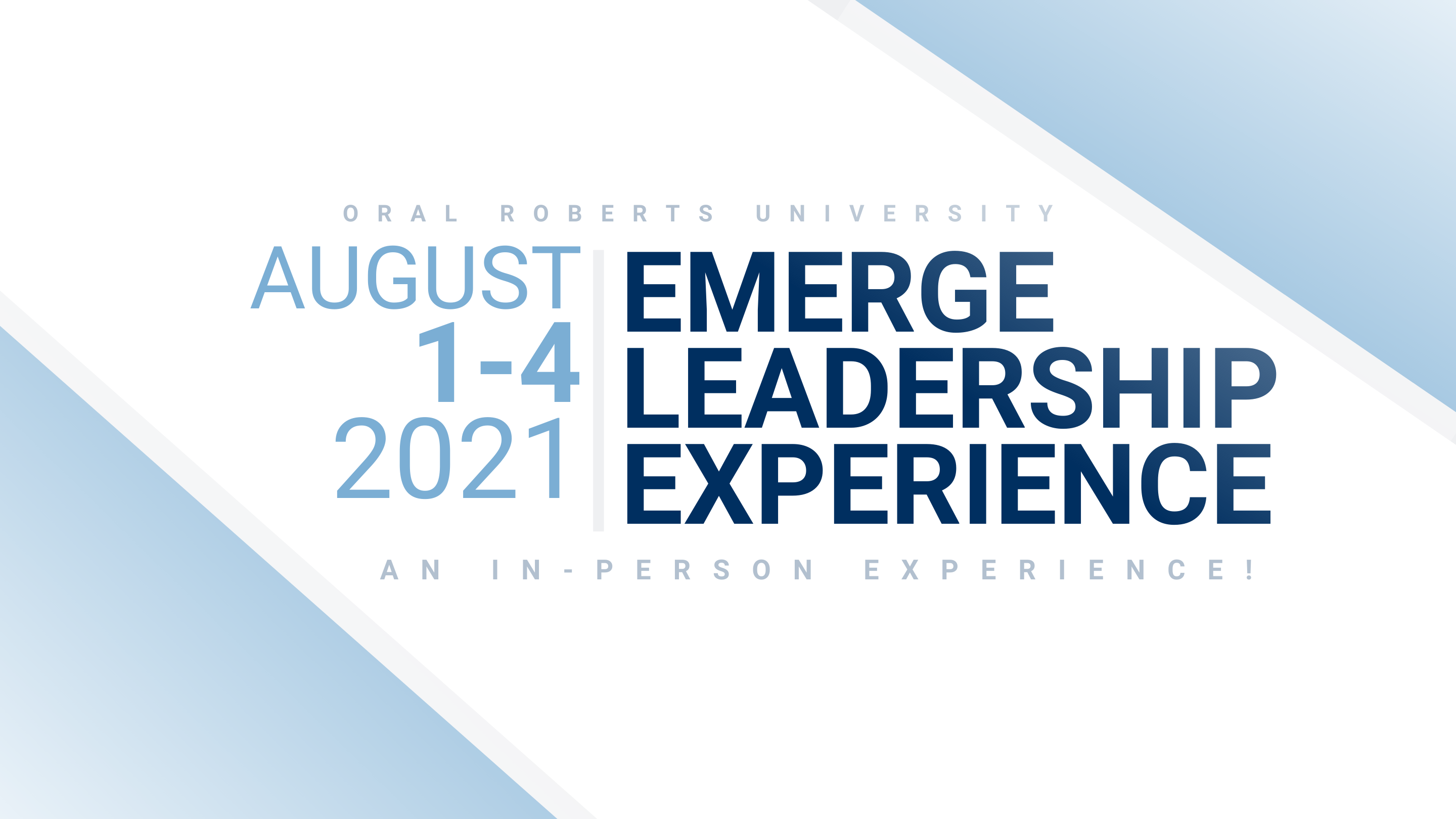 YOU'RE INVITED
AUGUST 1-4, 2021
As a student leader, you're invited to attend ORU's Emerge Leadership Experience, August 1-4, 2021, on ORU's beautiful campus. You and other young leaders will have the opportunity to learn how to follow God's voice and become equipped to influence the world around you for His glory.
You can expect practical leadership development, dynamic speakers, powerful worship and prayer, an in-depth showcase of ORU's academics, engaging devotionals, and so much more! Trust us, you don't want to miss this!
Who: Sophomores, Juniors, and Seniors in high school
Where: ORU Campus, Tulsa OK
When: August 1-4, 2021
Price: Register for this event before June 1 to receive early bird pricing of $180. After June 1, registration will be $230.
SCHEDULE OF EVENTS
SUNDAY, AUGUST 1
1:00 PM - 4:00 PM - Campus Arrival/Student Move-in (Airport shuttles available)
6:00 PM - Welcome Session
7:30 PM - 9:30 PM - Evening Activities in the Hammer Center
MONDAY, AUGUST 2
8:00 AM - Breakfast in the Cafeteria
9:00 AM - Morning Leadership Session
10:30 AM - Lead-In Session
11:45 AM - Lunch in the Cafeteria
1:30 PM - Leadership Development Session
2:30 PM - Activity
3:30 PM - Campus Life Breakout Session
5:00 PM - Dinner in the Cafeteria
6:30 PM - Evening Session
TUESDAY, AUGUST 3
8:00 AM - Breakfast in the Cafeteria
9:00 AM - Morning Leadership Session
10:30 AM - Lead-In Session
11:45 AM - Lunch in the Cafeteria
1:30 PM - Leadership Development Session
2:30 PM - Activity
3:30 PM - Campus Life Breakout Session
5:00 PM - Dinner in the Cafeteria
6:30 PM - Evening Session
WEDNESDAY, AUGUST 4
8:00 - 9:00 AM - Breakfast in the Cafeteria
8:00 AM - 3:00 PM - Campus Departure (Airport shuttles available)