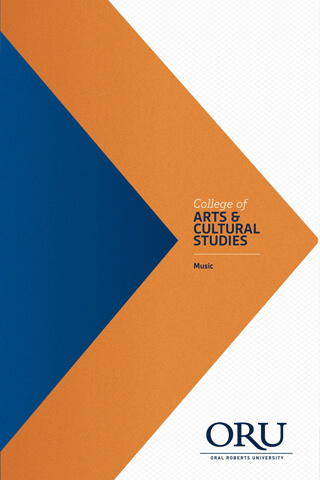 Music, in all its forms, is deeply woven into the fabric of life on the ORU campus. If you are interested in studying any aspect of music—from composition to performance or worship to music therapy—and you desire a Christian education that focuses on development of the whole person, you won't find a better place to study than ORU.
A few of the key advantages of our music programs include:
ORU is an All Steinway School—the first in Tulsa. As an All Steinway School, ORU is a member of a prestigious and select group of only 132 colleges and universities worldwide. Read more.
If you are a piano major, you'll have access to five studio grand pianos for daily practice as well as weekly opportunities to play Steinway Model D grand pianos during applied lessons and student recitals.


You'll have many opportunities to perform through various instrumental and vocal ensembles as well as chapel and special worship services.


Our instrumental and vocal applied lesson instructors are accomplished performers. You will train with them in weekly one-on-one lessons.


If you are a music education major, you'll have opportunities to observe and teach within the public and private Christian schools in the Tulsa area prior to your student teaching experience.


You'll learn to use the latest developments in music production equipment and software under the guidance of experienced studio and lab practitioners.


If you are a music therapy major, you'll have access to an operational Music Therapy clinic on campus for observation and clinical training.


You'll get lots of exposure to strong arts programs such as Tulsa Signature Symphony, Tulsa Ballet and Tulsa Opera as well as the opportunity to learn from visiting artists.


The ORU music department is accredited by National Association of Schools of Music (NASM).


ORU is an American Music Therapy Association (AMTA) approved university.
The Audition Process
Admission to the music program requires an audition with the music department. Students must first apply and be admitted to the university prior to auditioning. Please contact the Admissions Team for more information at admissions@oru.edu or 918.495.6518. Those interested in Music Therapy as a major must also schedule an interview with the Music Therapy Program Director, Dr. Hayoung Lim hlim@oru.edu or 918.495.7505.