Over the years, ORU students have visited almost 50 different institutions in over 30 different countries. Each program has its own advantages and disadvantages, but some programs stand out. Here we have the schools that, for various reasons, have kept students coming back.



Student Opinions

Jesse Prier
Centre Universitaire d'Enseignement en FLE, Nice, France
I studied at the Institut des Langues at the Universite de Nice Sophia-Antipolis. Located just a short walk from the beach, my time studying at l'Institut was scenic, pleasurable, and greatly expanded my knowledge of and appreciation for the French language. Oral comprehension, ability to wield the language precisely for what I intended to communicate in writing, and understanding of vocabulary were all areas [where] I saw drastic improvement. The teachers always demanded excellence which really challenged me to step up to the plate in my French studies.

Chelsea Kimbrough
Université de Strasbourg, Strasbourg, France
We wound up living in Kehl, Germany and crossing the border every day for school and church [in French-speaking Strasbourg]. I cannot begin to convey how much I enjoyed my experience! I met amazing girls at church whom I can still call my good friends; they still send me cards and packages, even though that was two years ago. I experienced the renowned art of French cuisine and beheld the beauty of the Swiss mountains. I also explored German castles and spent many afternoons lying on the grass near the Rhine River. At night, [my roommate] and I would stay up with our German friends, making up songs and talking about, well, everything. I think half of the time we were all just laughing hysterically for no good reason. Come to think of it, we were kind of ridiculous, actually. It was so exciting to be welcomed into another person's culture and experience their way of life! I became so entrenched in the French language that I began to dream in French and unwittingly lace my English with French intonations.

David Belousov
Universidad de Costa Rica, San Jose, Costa Rica
My first study abroad was to study Spanish at La Universidad de Costa Rica in San Jose, Costa Rica. I loved it! I really learned a lot of Spanish, became very fluent and became much more comfortable and confident speaking Spanish with native speakers. The people are very friendly and helpful, and the food and environment is very good! The university was fairly large and very beautiful. I also loved the natural beauty of Costa Rica and relaxed at several beaches, snorkled, went white water rafting, ziplining, and more! It was so much fun! You only have one life to live. Why not go explore, learn, and travel, and discover more of yourself and your purpose while you're at it? The world is open and waiting for you! It could be you on the other side of the globe! I'd say everybody who can should definitely go for it! It's definitely worth the time and money. The experience is priceless!

Jared Burkett
Haifa University, Israel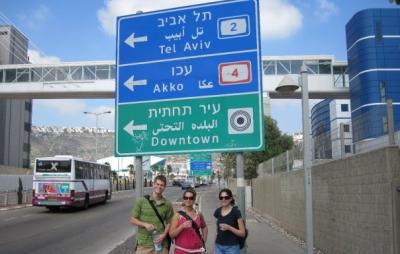 Studying Abroad? Hmm…that sounds like a good idea! If someone had tried to explain to me what my experience would be in Israel, I would have laughed at them. However, saying that I would not trade my experience for anything in the world. Studying abroad at the "University of Haifa" was both challenging and a rewarding experience. Like most other overseas language programs, University of Haifa believed in total immersion. I will say that this is one of the hardest methods at first but is definitely the most effective and the most rewarding. Although there were times that my brain felt like it was going to explode, I learned to push through and trust God. Studying abroad truly propelled me into knowledge, not only of the language itself, but thrust me into an understanding of the culture in which it is spoken. After studying overseas it's impossible to separate what I know of the language from what I know of the culture. Do I believe that studying abroad is necessary to pursue a language? Absolutely, and you won't change my mind about that.
Bryce Merkel
CCCU Oxford Scholars Program


I would highly recommend the Scholars' Semester in Oxford study abroad. The program will challenge you academically no matter what level you're studying, and they just recently expanded the number of courses offered. The whole academic course load is customized to your academic background, interests, and needs, so almost every credit you take will transfer back into your degree plan. But Oxford is more than just academics; there are plenty of sites to see as well. The city of Oxford is home to host of visiting tours, churches, libraries, hiking trails, and historical sites. Cheap public transportation means you can also get to almost any other location in the United Kingdom within a few hours, and all destinations in Europe are also economical considering your base in England. But the thing that makes the Scholars' Semester in Oxford the best is the people you'll meet. Whether it's the instructors, administrators, other study abroad students, or British students and citizens, your life will be transformed by the stories you'll experience with each of them. I came back from the program a very different person because my life had been touched by such rich, Christ-driven people.