Tips from our alumnus: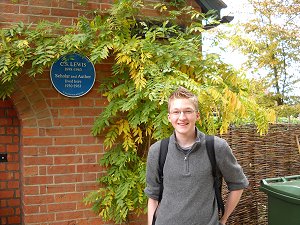 Bryce Merkl studied abroad in the Oxford Scholars program in the fall of 2009 and graduated from ORU with a degree in writing in 2011. He graciously shared some helpful info about his experiences.
Tips for the Oxford Scholars Program
--If you have a choice for living quarters, choose the Vines over the house at Crick. The Vines has better facilities and more room. Also, since the Vines has more people, you're more likely to find someone you can get along with.
--Choose a seminar and British Landscape concentration that reflects your academic background. If you're an English major, Oxford isn't the place to branch out into history or theology. British students specialize in a subject much earlier than in the U.S., and coursework outside of your major will be very challenging (I know because I made that mistake).
--Join a food group and start it early. At each Oxford residence, the junior deans will tell you about food groups, but in my experience, they were very confusing. However, food groups are really worth it. Here's the jist of what you should do: gather a small group of people (up to 13-14, but no less than five) and assign one day of the week to clusters of 2-4 people. For example, Bill, Mary, and Sue have Mondays, Joe, Bob, and Martha have Tuesdays, etc. This group of people then buys groceries and cooks dinner for the entire group on that one day of the week. This greatly reduces your food costs and means you only have to cook dinner one day a week (which is really nice, believe me).
--Bikes: if you're only studying in Oxford for one semester, don't bother getting a bike, it's not worth the money you'll spend, even if you live at the Vines (because the Vines is on a hill, you won't be biking half of the time anyway). However, if you are staying for two semesters, then get a bike as early as you can, because a year's use of it will make the purchase well worth it when you want to go to other destinations. Also, be sure to get a good bike lock, because bikes are stolen often.
--Lectures: As part of the program, you're required to attend lectures that are only optional to regular Oxford students. At the end of the semester, the program admins will only ask you how many lectures you attended, so many people just choose not to go. However, remember that these lectures are given by some of the best people in their fields in the entire world, so just choose lectures that you're interested in (not ones you feel you should go to), because you'll be richly rewarded. I used a number of lecture notes from Oxford in my senior paper.


Tips for studying in the UK
--Time: Don't waste your time while you are abroad. There are so many things to see and do that you won't have time to see everything. However, you'll regret it if you decided to stay in your room and watch movies the whole time while your friends went to see C.S. Lewis's house or the British Museum. Don't miss those opportunities, because you may never get them back.
--Phone calls: Do not bring an international calling card with you from the U.S. Calling cards in the U.S. are much more expensive than they are in the U.K. Also, Skype offers free calls (to other Skype users) over the Internet for free. Set up a Skype account before you go and spend the extra money on trinkets.
--Customer service: Before you get angry at a customer service rep at any UK company, keep in mind that British culture doesn't treat customer service the same way that the U.S. does. In the United Kingdom, customer satisfaction isn't as high of a priority as in the U.S. They simply don't care about you as much as in the U.S., so set aside your ego before you go.
--Churches: As far as churches in Oxford go, there are plenty of options, after all, the whole world comes to this place to study. For ORU students, I'd suggest trying a number of churches before deciding on one. One that offers more familiarity to Spirit-Empowered students would be St. Aldate's church on St. Aldate's Street, near the city centre (right across from Christ Church college).
--C.S. Lewis: Access to Lewis's house (which is very close to the Vines) is severely limited. Email the administrators at the house early in the semester so that you can get a tour before you leave. The experience will be well worth the small charge for the tour. Also ask them about Lewis's grave and church down the street.
--Tolkien, Lewis, and other Inklings: Be sure to visit the Eagle and Child pub near the city centre of Oxford. You'll be able to see all sorts of Tolkien, Lewis, and Inkling historical artifacts, and the Eagle and Child serves some good food as well. Just don't go to early in the day since they don't serve food until the afternoon.
--Ashmolean Museum: Oxford's mini-version of the British Museum, the Ashmolean is a treasure trove of interesting artifacts. Admission is free. Be sure to check out Powhatan's cloak.
--British Museum: It's been said that of all the museums in the world, the two that everyone on earth must see are the Louvre (in Paris) and the British Museum (in London). Take a full day (morning until late at night) to see the British Museum in London. Buses leave from Oxford frequently and are cheap if you get a round-trip ticket. In the museum, be sure to check out the Rosetta Stone, the Assyrian stone carvings, the Pantheon ruins, and the Reading Room (if it's open). Admission is free.
--Stratford-upon-Avon: For all those Shakespeare nerds out there, be sure to visit Stratford-upon-Avon, Shakespeare's birthplace. Most of the "official" historical sites are not worth the money spent, but the town itself is a site to behold. The memorial park and Shakespeare's burial site are both free, but to see the burial site, be sure to get there earlier in the day since the church will close in the late afternoon. The Shrieve's House and Barn is another good place to check out, though you will have to pay; it is the only site in Stratford-upon-Avon with genuine architecture from Shakespeare's day. Also, be sure to get a ticket to a show by the Royal Shakespeare Company while in Stratford-upon-Avon. Most shows still have discounted student tickets available for sale at the theatre itself (not online) the day of the show, so arrive early in the day (around 8-9 a.m.) to get a cheap ticket to a great show.
--General travel: Plan well ahead of time once you get on the ground in England, because many plane/bus/train tickets will be a lot cheaper when you buy them ahead of time. Also, planning a trip with a whole group of students takes more time than you'll think.
--Travel to France: If you're going to France, then be sure to check out the Chunnel train (Eurostar) versus airfare. Oftentimes (though not always), the Eurostar is cheaper than flying. Plus, it's way cooler.
--The Louvre: If you go to Paris, then be sure to check out the Louvre. Just like the British Museum, you'll need a full day (morning to night and then some) to see the whole thing. Admission is free only IF you show your Oxford Student ID and International Student ID (something you'll be required to get to study abroad via ORU). If you show your U.S. Passport, you won't get in for free.