The College of Education at Oral Roberts University
Transformed Educators. Transforming Society.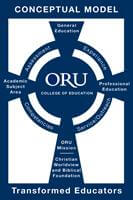 Theme: Transformed Educators "...be ye transformed by the renewing of your mind..." Romans 12:2

Vision: Transforming Society The Miracle Ahead A Transformed Generation "Ye have not chosen me...I have chosen you and ordained you that you should go and bring forth fruit, and that your fruit should remain." John 15:16
Mission: Preparing Professional Christian Educators to go into Every Person's World "To provide the opportunity for individuals who hold Christian principles to participate in advanced study in initial and advanced preparation for professional public and private responsibilities in the field of education throughout the world."
Philosophy: Biblical Foundation - Christian Worldview components connect all contents by implementing educational Competencies, Experiences, Outreach, and Assessment. · Nature of the Learner - Created in God's Image · Truth and Knowledge - All Truth is God's Truth · Values - Biblically Based

Knowledge Base
Linked to Institutional Standards
Aligned with National Standards, State Competencies, and Standards of the Profession
Evaluated and assessed in light of current research and best practices
Built upon past achievements and universal truths
In keeping with the University's Statement of Purpose, the College of Education's conceptual model is rooted in the philosophical position that education is the shaping of the whole person: spirit, mind and body.