Governor Stitt to Help ORU Cut the Ribbon on New Housing
FOR IMMEDIATE RELEASE:
Monday, September 16, 2019
FOR MORE INFORMATION:
Stephanie Hill, Director of University Relations & Communications
Office: 918.495.7337, Mobile: 918.720.5548
sthill@oru.edu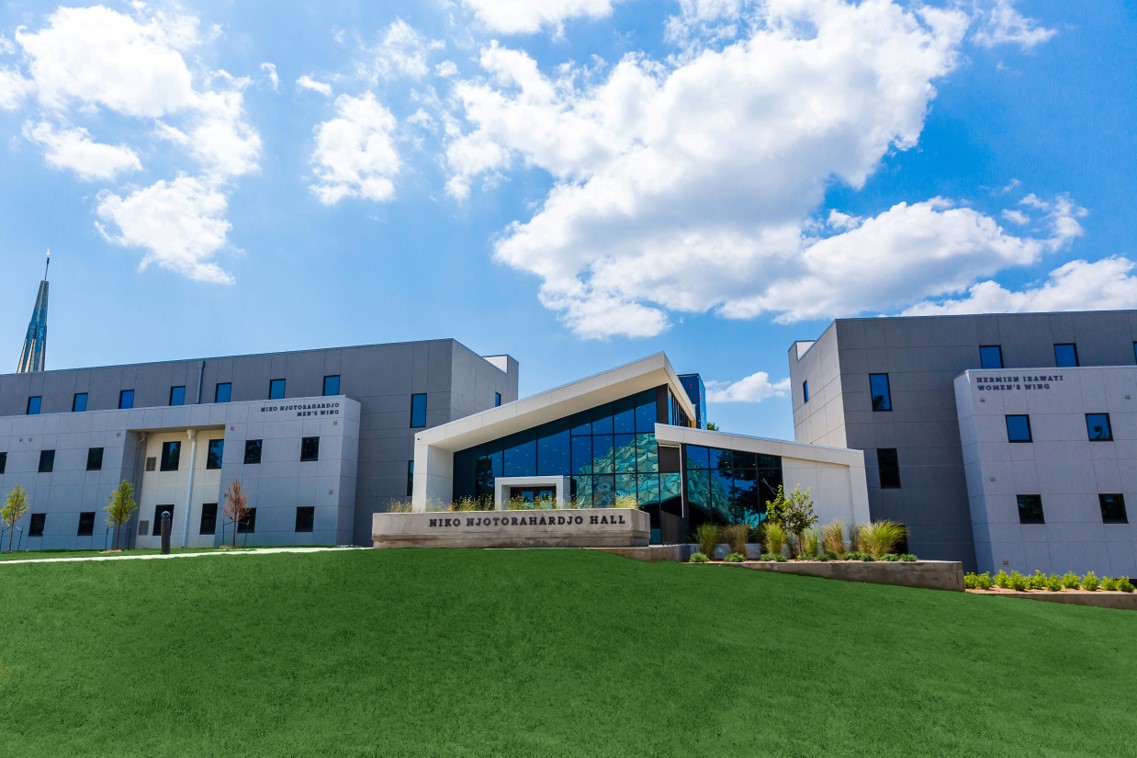 Tulsa, OK - The Oral Roberts University campus is buzzing with excitement after the University not only welcomed students to its new apartment-style housing but also completed a $50 million fundraising campaign, the largest and most successful comprehensive campaign in ORU's history.
To celebrate, Oklahoma Governor Kevin Stitt will join ORU President Dr. William M. Wilson to cut the ribbon on the first new housing on campus since 1976 on Friday, September 20, 2019 at 12:15pm.

"The Niko Njotorahardjo Residence Hall provides a new kind of housing for this generation of students," said Wilson. "We are excited to have this new space that provides the best students in the world exceptional study and relationship-building areas along with modern amenities."

The nearly $10-million-dollar facility has separate structures, one for men and one for women, with a beautiful lobby connecting the two. Each suite includes a kitchen, washer and dryer, plus living and dining areas. The rooms include unique recessed sleeping areas that give students their own space. Niko Hall, which also features a dorm-style top floor, houses 240 students.

"ORU is in a season of incredible expansion," said Wilson. "In addition to 11 consecutive years of enrollment growth, we completed our 50th Anniversary Comprehensive Campaign this month, raising just over $50 million. The campaign enabled us to build Niko Hall, an award-winning Global Learning Center, and the ONEOK Sports Complex. We were also able to fund vital globalization efforts and thousands of student scholarships for both domestic and international students.

"All of this was accomplished without using a single dollar of tuition money, and we have opened all these new facilities debt-free," Wilson added. "We are so grateful for the donor support that has made all of this possible. We look forward to launching a new campaign soon to continue the significant improvements on campus."

ORU is also grateful for the generous donation from Pastor Niko Njotorahardjo, for whom the hall is named. "Pastor Niko," as he is known, is the Founder and Senior Pastor of Gereja Bethel Indonesia church in Jakarta, Indonesia, which has grown from 400 members in 1988 to more than 300,000 today. Pastor Niko will be speaking in chapel services before the ribbon-cutting.