ORU Club Receives Acclaim for Humanitarian Projects
by Deborah Laker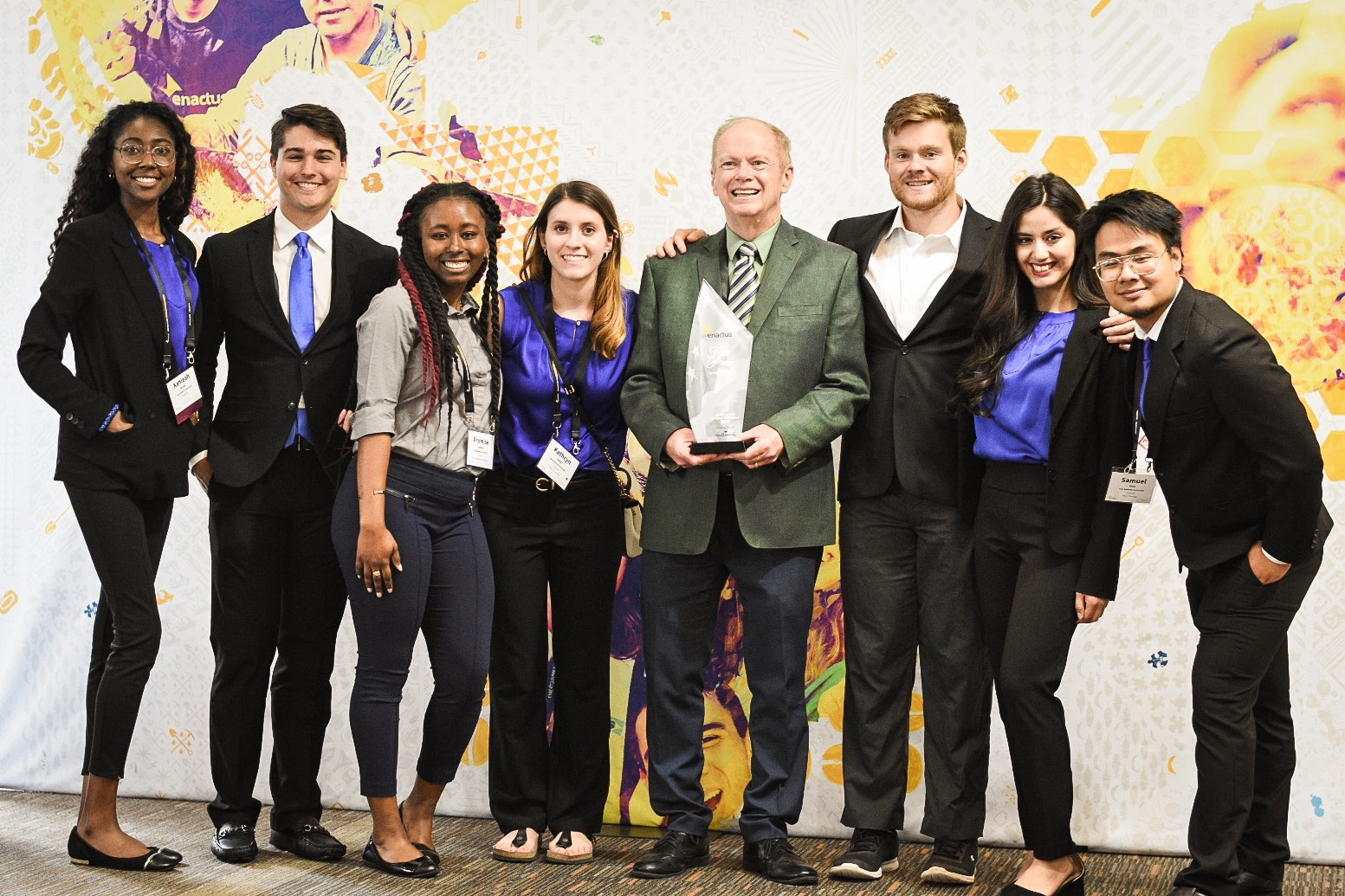 A team of students from Oral Roberts University presented two projects at the Enactus national competition this May in Kansas City, Missouri. Enactus is a community of university students, educators, and business leaders who collaborate to develop entrepreneurial projects meant to "transform lives and shape a better, more sustainable world."
Sarah Rummage, president of the Enactus club at ORU, describes Enactus as an "outlet where students can channel their passions and experience changing the world using their local resources and professional network."
Enactus was founded in Missouri in 1975 and has since spread to 37 nations.
At this year's National Exposition, teams from 404 universities showcased their entrepreneurship initiatives and sustainable projects.
Rummage explains that her team's strategy to excel in the competition was to identify a need, discover an organization that is already addressing that need, and then partner with them to support the community.
Three months before the national competition, the team decided to tackle Oklahoma's issue of female incarceration by partnering with Women in Recovery, a diversion program for convicted women. This Tulsa-based organization works alongside the criminal justice system to help rehabilitate female convicts through substance abuse treatment and mental health therapy.
The ORU Enactus team was tasked with writing a new Financial Management curriculum for Women in Recovery to use in its Personal Finance classes. By meeting weekly with the organization's officials, they were able to create an innovative, interactive program to teach participants how to set and achieve their financial goals. Within a month of implementing the revamped curriculum, the Enactus team recorded a 24 percent decrease in financial anxiety among participants.
The group of ORU students was able to help further Women in Recovery's vision of rehabilitating convicts and empowering them to be financially stable.
Apart from creating a revised Financial Management curriculum for Women in Recovery, the second project ORU's Enactus chapter presented at the national competition was their work with the Hatcliffe community in Zimbabwe. By collaborating with the Healing Teams serving under ORU's Missions and Outreach umbrella, the Enactus club developed a model for sustainable gardens called wicking beds to support local farmers.
Members of the team traveled to Zimbabwe where they taught local farmers how to use the low-cost irrigation system. Implementing wicking beds brought prosperity to the community as their farms produced a larger yield of vegetables, which not only improved their diet but also increased their income.
Although the materials for the wicking beds were offered by the mission team, the Enactus club wanted to ensure it was a durable solution, so they organized farmers into a savings collective. Each month five farmers contribute $5 to the group's savings. Once they accumulate $50, then one farmer can build a wicking bed. By embracing self-sufficiency, the community will continue to enjoy plentiful harvests.
"On the first day of the national competition, we presented our two projects," Rummage said. With excitement in her voice, she recalls how the team's contributions to local and international issues led them to a third-place finish and a $750 prize.
Despite being administered by the College of Business, the Enactus team included 27 students from diverse disciplines across multiple colleges.
One of these members is Karina Salcedo, a Political Science major who served as a presenter during the competition. Salcedo believes the clearness of their presentation led the judges to award them the third-place trophy after a decade-long hiatus.
Despite this being her first time attending Enactus, Salcedo looks forward to expanding her passion for entrepreneurship and sustainable projects by returning next year.
"I encourage students at ORU to look beyond their major and consider joining or supporting ORU's Enactus because the things that we do here go beyond ORU," she says. "They go beyond Tulsa. They go beyond the country to the uttermost bounds of the earth."
[Thumbnail and story images courtesy of Jonathan Rodriguez.]