ORU Business Professor Receives Teaching Excellence Awards
FOR IMMEDIATE RELEASE:
Monday, June 11, 2018
FOR MORE INFORMATION:
Stephanie Hill, Director of University Relations & Communications
Office: 918.495.7337, Mobile: 918.720.5548
sthill@oru.edu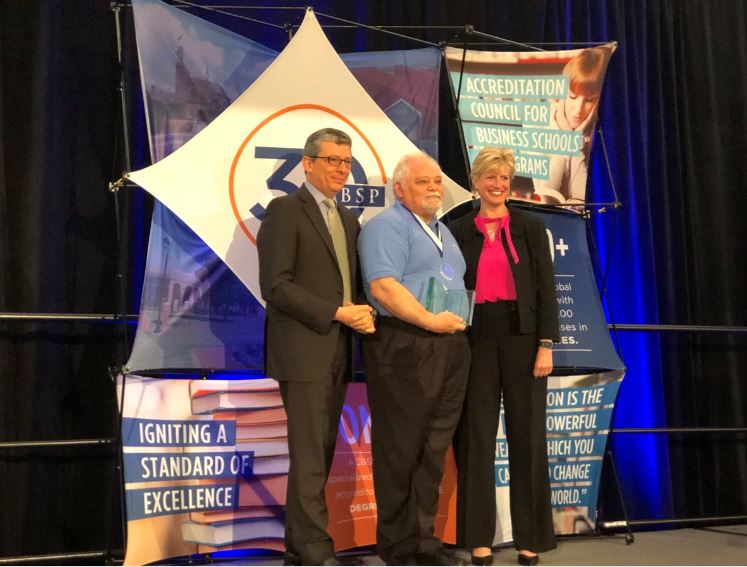 Tulsa, OK – Oral Roberts University Business Professor David Dyson, Ph.D. was awarded over the weekend the 2018 International Teaching Excellence Award for Baccalaureate/Graduate degree-granting institutions. Dr. Dyson became eligible for the award in May when he was named a recipient of the 2018 Teaching Excellence Award for Region 6 from the Accreditation Council for Business Schools & Programs (ACBSP). He received both awards during the ACBSP Conference, June 8-11 in Kansas City, Missouri. Dr. Dyson received a crystal award medallion and a $250 check.
Dr. Dyson, who teaches management, joins two other ORU College of Business faculty in receiving the Region 6 award: current faculty member Dr. Marshal Wright and prior faculty member Dr. Walt MacMillan. Region 6 includes schools in Arkansas, Louisiana, New Mexico, Oklahoma, and Texas.
"To have three recipients win this award within an eleven-year span from one institution is a significant accomplishment for ORU's College of Business, and for Dr. Dyson to also win the international award speaks to the excellence he brings to the job," said Dr. Julie Huntley, Dean of the College of Business. "Our professors are committed to giving our students an unprecedented classroom experience."
Dr. Dyson has been instrumental in using new technologies in his classroom, including augmented and virtual reality, as well as avatars. He also regularly connects his students to business experts around the globe, giving them a broad range of opinions and ideas.
"We've been building the use of these new technologies into our curriculum as we go, and it's been fun," said Dr. Dyson. "I'm honored to receive both awards and advance the cause of producing graduates who are ready to enter the global marketplace."