Remembering Dr. Myles Munroe
"He has changed our lives. He gave so much of himself. He leaves a legacy."
Danielle Parker-Stoltz '07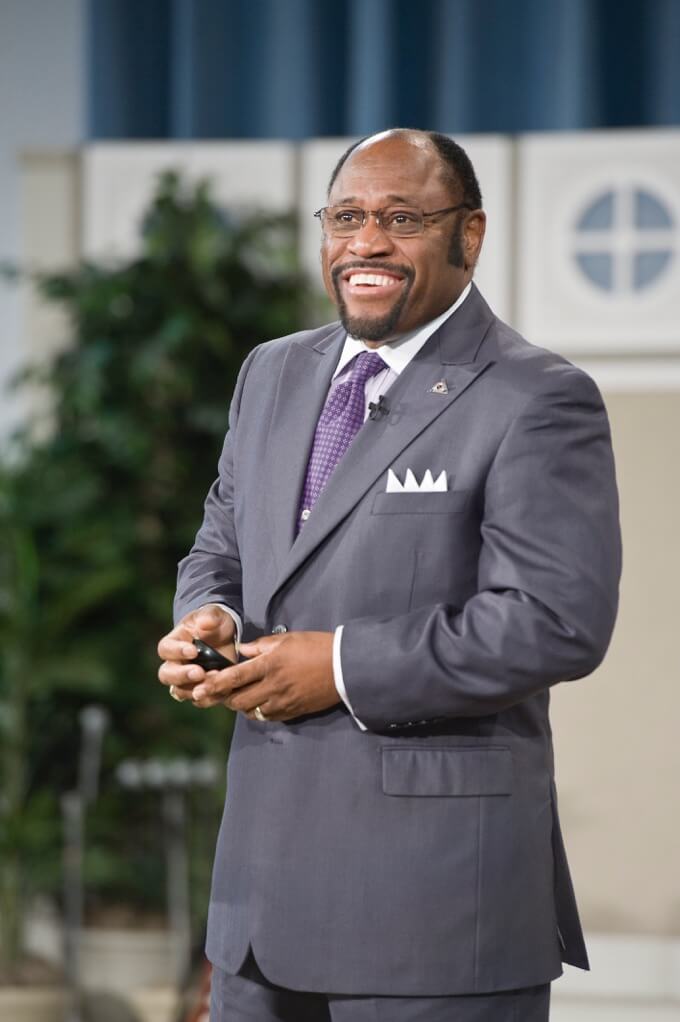 November. 9, Oral Roberts University graduate Dr. Myles Munroe ('78) went home to be with the Lord.
Munroe, founder and president of Bahamas Faith Ministries International, was killed in a tragic plane crash, along with eight others in Grand Bahama, Bahamas.
"His work in extending Christ's Kingdom in our generation was exemplary and world changing," said ORU president Dr. William M. Wilson. "He was a servant to the university as both a member of the Board of Regents and, most recently, on the Board of Reference. Over the years, Myles was a much beloved chapel speaker and contributor to our university community."
Munroe also served as co-chair of the Empowered21 Caribbean cabinet and a member of the Empowered21 Global Council.
Also aboard the plane was Munroe's wife Ruth, who attended ORU from 1979 to 1980, and 1978 ORU graduate Richard Pinder, senior vice president and pastor of Bahamas Faith Ministries Fellowship Church.
A week after the crash, ORU alumnus Gary McIntosh ('75), a close friend of Dr. Myles and Ruth Munroe, shared memories of his friendship before his congregation at Transformation Church Greenwood in Tulsa, Oklahoma.
"They were with (my wife and I) in almost every arena and every transition of our life," McIntosh said.
He and Dr. Munroe met as students at ORU and remained friends over the last 42 years.
"He loved life more than almost anyone I'd ever known," McIntosh said. "He stood tall with confidence. He had faith in God's Word that gave him conviction that stood the test of time."
Munroe began his ministry in a small rented building that sat only a few hundred people. Today those humble beginnings have evolved into BFMI and Myles Munroe International.
"He would always say he was going back to Bahamas to change his nation… and he did it," McIntosh recalled. "He spoke to princes, presidents and prime ministers. He was influencing their decision-making process.
"Dr. Munroe spoke into Fortune 500 companies and poured into them and did training session all over the world. How many spheres of influence did this man have? You talk about a big impact. He left massive deposits everywhere he went."
Over his lifetime, Munroe wrote 59 books, including Becoming a Leader, God's Big Idea and Kingdom Principles. Munroe traveled as a preacher and motivational speaker training leaders in government, business and ministry for more than 30 years.
"He was obedient to what God said to him, and there was a releasing of what God said to him—through books and through the Internet," McIntosh said.
In an interview, less than two weeks before his death, Munroe spoke on how on believers should live and die.
"I want you to die empty. I want you to die with nothing else left to do," he said. "I want you to die because you poured out all of your dreams, ideas, visions, books, music, publications … that you died empty. That's the goal of life. One of the most beautiful statements I have ever heard about dying is this: 'It is finished.'"
McIntosh looks back at Munroe's life and ministry and says he believes his dear friend truly did "die empty."
"He had incredible dedication," McIntosh said. "He has changed our lives. He emptied himself fully. He gave so much of himself. He leaves a legacy."
Dr. Myles and Ruth Munroe are survived by his daughter Charisa Munroe ('05) and his son Myles (Chairo) Munroe ('06).