ORU Integrates Wearable Technology
Oral Roberts University Online Partners with vívofit® from Garmin® to Integrate Wearable Technology Into Online Curriculum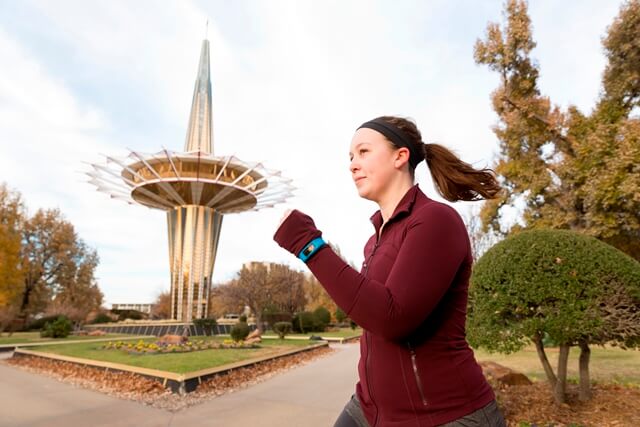 Oral Roberts University has a heritage of innovation and a new partnership with vívofit from Garmin takes the unique whole person education to new heights for online learning. As a part of the required curriculum in the spring, all online students will track physical activity through vívofit activity trackers.
ORU is among the first academic institutions in the world to utilize this wearable technology in an online learning environment. The vívofit activity tracker will support students' aerobic and fitness outcomes as the university works with them to develop mind, spirit and body.
"We are deeply committed to using technology innovation to provide a one-of-a-kind whole person education to students around the globe," said ORU President William M. Wilson. "We are excited for how the vívofit will transform the physical education we provide to ORU's online students and look forward to future innovations as we continue to expand our course offerings."
"The integration of wearable technology into an online curriculum is a new concept in higher education," said ORU Provost Kathaleen Reid-Martinez. "We are thrilled to partner with Garmin on this technological adventure and feel this is a step toward transforming the education landscape globally."
"Vívofit was designed to help people reach health and fitness goals, and establish lifelong habits," said Dan Bartel, Garmin's vice president of worldwide sales. "We are very excited to have vívofit be a part of Oral Roberts University's initiative, which shares our dedication to offering tools for a healthy lifestyle."
The vívofit activity tracker features one-year battery life and is water resistant, so users rarely have to take it off. Encouraging users to stay consistently active throughout the day, vívofit sets a personalized daily step goal based on current activity level and features a move bar to remind users when they have been inactive too long. Its always-on display shows steps, distance, calories, goal countdown and time of day. Vívofit also tracks sleep and is compatible with ANT+ ™ heart rate monitors for fitness activities.
"ORU's online learning program has worked tirelessly to incorporate a high quality, whole person education that will equip students for their calling," said ORU Dean of Online and Lifelong Learning Sergio Matviuk. "We are excited to offer this cutting-edge technology that will enhance our student's experience and increase the convenience of our fitness programs."
The vívofit can be synced to ORU's new, state-of-the-art online portal to save, plan and share progress. ORU's proprietary portal serves as a one-stop resource for online students. The portal gives students access to resources designed to develop the whole person. Features include access to university announcements, ORU Chapel archives, Christian news sources, recipes, fitness tips and daily devotionals.
The portal allows online students to stay connected to ORU's Tulsa campus. Students have access to ORU support staff including chaplains, student success coaches and health/ fitness specialists. There is also a public directory of faculty and student profiles, which allows students to connect from around the globe.
To see a virtual tour of ORU's new online portal, visit https://www.youtube.com/watch?v=4tbWoErJXDU . For more information about ORU, visit oru.edu .