Chancellor Roberts Elected to Hall of Fame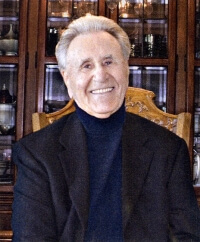 Chancellor Oral Roberts was elected this week to enter the Oklahoma Association of Broadcasters Hall of Fame by the OAB Board of Directors. The OAB Hall of Fame Award is the highest honor bestowed upon an individual by the Oklahoma Association of Broadcasters. Recipients of the OAB Hall of Fame Award are individuals who have attained positions of national prominence in the industry or its allied fields, or have been major contributors to the growth and welfare of radio and television in Oklahoma or nationally, and have been exemplary stewards of broadcasting.
Since his first inspirational radio broadcasts in 1947 of "Healing Waters," Oral Roberts has been a pioneer in radio and television programming. His vision of broadcasting let him expand his audience from a dusty tent on the outskirts of town to living rooms around the world. His first television program, Your Faith of Power, was introduced in 1954 and by 1957 The Abundant Life program aired on over 135 stations reaching over 80% of America. Roberts' Tulsa ministry continued to expand and from 1969-1980 NBC produced and distributed his quarterly Prime Time Specials known for their celebrity guests, music, and Roberts' positive preaching. Roberts is also an educator who founded Oral Roberts University in 1963. ORU is home to KGEB TV 53, a "Family Safe" station that now beams its 24-hour programming via satellite around the world. Roberts' lifetime commitment as an evangelist, broadcaster and educator is profound. He is now semi-retired, living in California.
Also elected were Ed Birchall, Oklahoma television personality and Harold Wright, radio executive and civic leader.