ORU Ad Team Earns 2nd Place Award in Houston Competition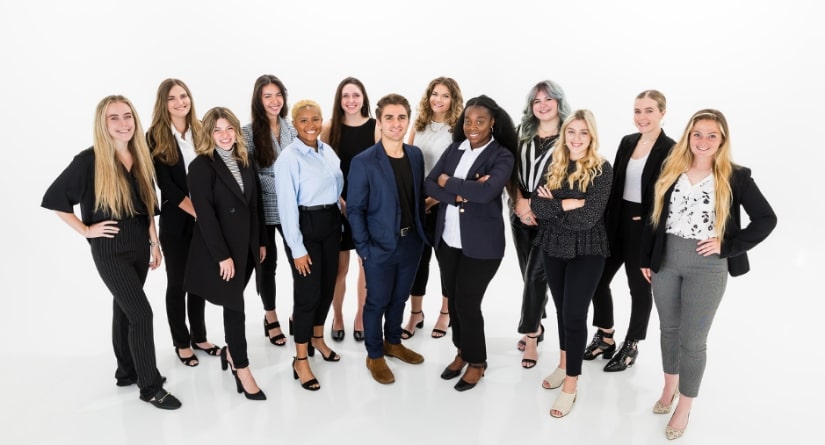 Thirteen ORU National Student Advertising Competition team members participated in the nine-month case competition. Starting in August 2021, the students created an advertising agency and operated as an agency team to address the Client Brief. For their work, ORU Media majors (e.g., Public Relations, Advertising, Media Production, and Cinema/TV/Digital Media) can earn degree credits toward graduation in courses such as Senior Research Project and Campaign Planning.
Pictured front row, left to right: Rebekah Lanferman, Peyton Hickman, Alyse Manley, Christopher Costanza, Joanna Mensah, Jessica Orth, Patty Kliver; (back row, left to right) Kaitlyn Barrington, Amilia Sedin-Chan, Julia Fryc, Tori Storm, Savannah Jolowski, Mikala Lanferman.
Tulsa, Okla.— Tulsa, Okla.— Oral Roberts University's (ORU) National Student Advertising Competition (NSAC) team recently won the 2nd Place Overall award at the American Advertising Federation's (AAF) regional event in Houston, TX. More than 150 U.S. colleges and universities competed in the national competition, and the regional, first-round event included universities from Oklahoma, Arkansas, Louisiana, and Texas. ORU's NSAC team received real-world experience creating a strategic marketing & media campaign for this year's national partner and corporate client, Meta.
This year's case problem focused on positioning Meta's Quest 2 virtual reality headset as essential back-to-school technology for college students. Competing teams submitted a 13-page campaign plan and pitched their ideas as a 20-minute presentation to a judges' panel. According to ORU's Associate Professor of Public Relations & Advertising, Dr. Cristi Eschler-Freudenrich, this year's case problem was especially challenging because of Facebook's pivot to rebrand as Meta.
"The launch of Meta required students to analyze the company's evolving business and branding strategies," said Dr. Eschler-Freudenrich. "The students scraped web portals, social channels, and online forums for the latest news and reviews. This continual effort helped the team create a relevant, on-brand campaign and a team entry that competed well among many outstanding schools and teams."
Last fall, the ORU team dissected the client's problem and conducted primary research to build a strategic plan. Campaign deliverables were then designed in the spring, including two 30-second commercials, social media posts, retailer promotional partnerships, and an NCAA in-arena event. The ORU team also proposed an online consumer reviews program, launching it through "QuestU," a Metaverse campus hub for college students.
Chris Lake, a member of the Brand Strategy team at Meta Reality Labs, wrote that ORU's "Go Beyond" campaign was action-oriented and spoke to Meta's big vision. The campaign also "hit on a lot of key tensions" for both the company and the brand, and the ORU team identified "where Quest can play a role beyond the obvious 'immersive' benefit" of the headset."
"Through all the different changes and iterations of our campaign, the team adapted to produce a professional end-product, one which resonated with the judges," said Peyton Hickman, a Public Relations and Advertising senior. "We also heard from other teams that they loved our presentation and campaign."
"Being part of the NSAC team showed me that I'm ready to apply what I've learned at ORU in the industry. Ultimately, I'd like to tell compelling stories through social campaigns for major brands and ministries," Hickman said.
ORU's NSAC team is open to any senior or second-semester junior with skills and/or experience in marketing, management, research, graphic design, cinematic film, social media, public relations, advertising, or related discipline. For more information, email cfreudenrich@oru.edu.
ABOUT ORAL ROBERTS UNIVERSITY
ORU is a Christian, Spirit-empowered, interdenominational university in Tulsa, Oklahoma, with over a decade of consecutive enrollment growth. Regionally accredited by the Higher Learning Commission, ORU offers over 150 majors, minors, concentrations, and pre-professional programs at the bachelor's level, ranging from business and engineering to nursing, ministry, and more. Under the leadership of President Dr. William Wilson, ORU is preparing students from all 50 states and 142 nations to be whole leaders for the whole world.
The Wall Street Journal ranked ORU as the #4 university in the nation for student engagement. This ranking is based upon faculty interactions, collaborative learning, critical thinking, real-world applications of student learning, the extent to which classes challenge students, and whether students would recommend a university to others. Niche ranked ORU as one of the top 25 most diverse colleges in America.
ORU is ranked by U.S. News & World Report as
• #1 in Undergraduate Teaching
• #2 in Most International Students
• #3 in Best Value
• #6 in Best College for Veterans
• #7 in Best Regional Colleges in the West
For more information, visit www.oru.edu.