ORU MASST from Oral Roberts University on Vimeo.
Funded by the National Science Foundation Robert Noyce Scholarship Program
Math and Science Scholarships for Teaching
The National Science Foundation's Robert Noyce Teacher Scholarship Program supports talented science, technology, engineering, and mathematics (STEM) majors who want to become K-12 mathematics and science teachers.
The $1.14 million grant was awarded to Oral Roberts University to provide internships, scholarships and other educational experiences to students who commit to teach secondary level math or science in a high-need school district.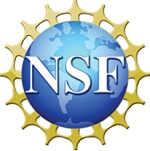 This material is based upon work supported by the National Science Foundation's Robert Noyce Teacher Scholarship Program under Award Number 1540515
Any opinions, findings, and conclusions or recommendations expressed in this material are those of the authors and do not necessarily reflect the views of the National Science Foundation