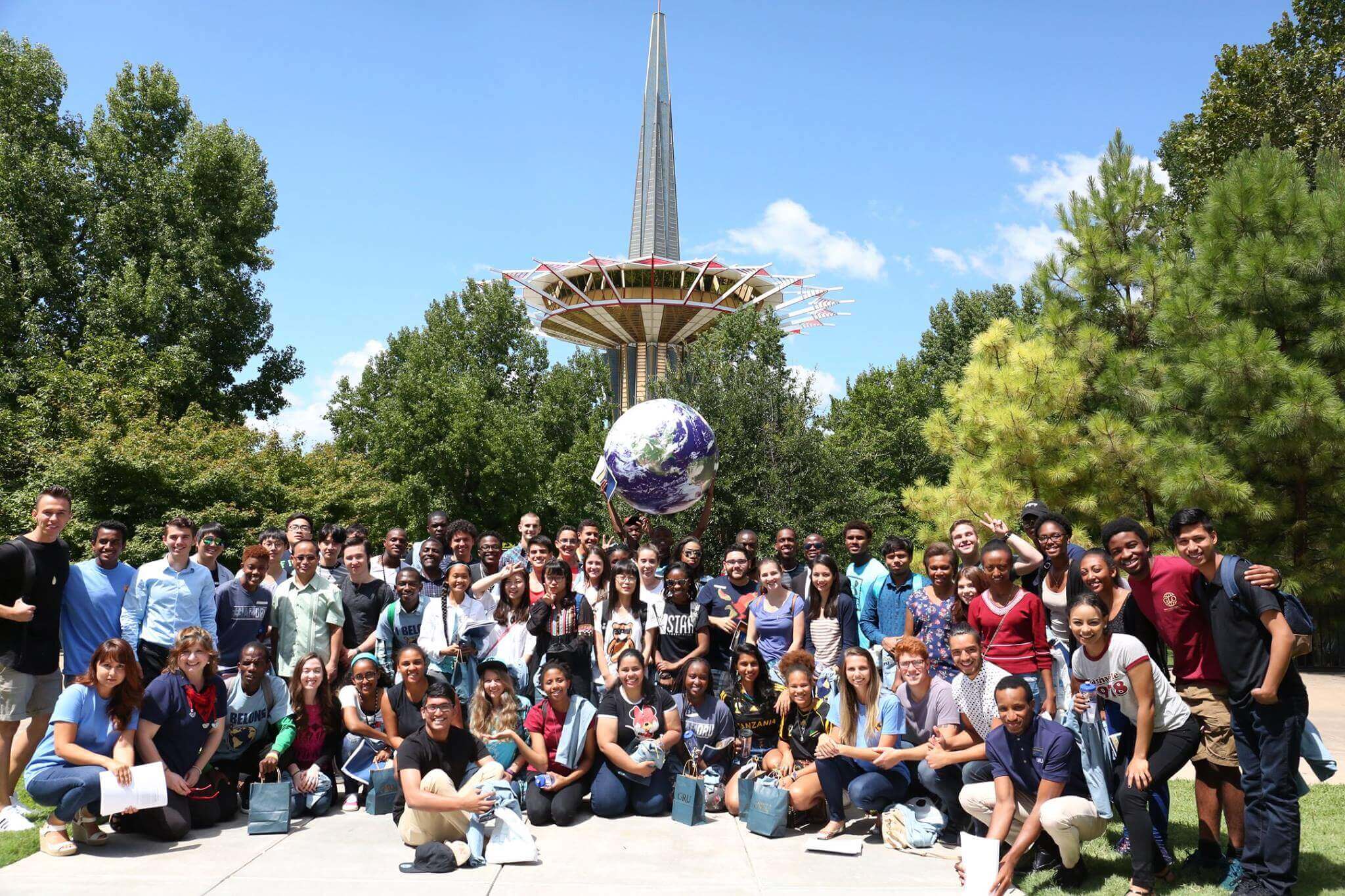 The Oral Roberts University International Center has been created to assist the University in fulfilling its mission of educating the whole person while embracing a global mandate.The International Center operates as a global model merging the University's purpose with a positive student experience within the context of a Spirit-empowered leadership culture.
The center is a caring and welcoming place and is devoted to providing support for students, staff, and faculty in regards to ORU's global reach and mission.
General objectives for the International Center include:
1. Create diverse culture experiences across campus
2. Assist all students with becoming cross-cultural competent
3. Help International students with cultural, academic and spiritual integration and growth
4. Collaborate with University departments
5. Establish interdisciplinary perspectives
6. Coordinate global learning experiences
7. Support students to produce qualities and skills needed to make a redemptive difference with a global perspective
8. Partner with Admissions to intensify International recruiting efforts
Location: 1st floor east suite of Claudius Priscilla Roberts Hall.
Welcome to the International Student Center
The International Student Center Mission is: "To support and empower international students to succeed academically, socially and spiritually while creating global awareness across the university through intercultural events and study abroad opportunities"
Academic Success
GAP
Are you struggling with homework? Do you need help adjusting to ORU? The Global Ambassadors Program (GAP) is an opportunity available for all international students to help every student succeed in achieving a whole-person education. When you get involved with the GAP program, you will have a mentor assigned to you. That mentor will meet with you on a weekly basis to help you achieve a holistic education. Whether that is adjusting to the culture, studying for your big exam, or by playing pool at the Hammer Center, they are there for YOU.
The GAP leaders are chosen through an application and interview process. Those that are chosen to be a GAP leader receive a scholarship for their position. If you are interested in getting involved as a GAP leader next year, please send an email to Sharla Roche at sroche@oru.edu for more information.
ORU Writing Center
Writing is difficult for every student, even those that speak English as their first language. We get it that writing is difficult, especially if English is not your first language. That's why at ORU we have the Writing Center. Here tutors will work with you individually to help you improve your writing skills. This generally involves reading over a paper together with you, identifying areas you can improve, and providing suggestions for further practice.
For more information about the ORU Writing Center and for information on how to schedule a time with a tutor to help you improve your writing skills visit the writing center page.
ORU Library
The ORU Library has a vast selection of resources that will help equip you in your academic journey. Everything from academic journals to thousands of e-books to one of the largest theological libraries in all of Oklahoma, the ORU library is determined to make sure you have everything that you need for your classes. In addition to the surplus of resources, feel free to ask the librarians about any research question, formatting question, or writing question that you may have. They are eager to see you succeed! Find them located at various desks located throughout the ORU Library.
The ORU Library also makes for a great study location with a computer lab for students to access, printers that can be used with loose change or with your Eagle Card, various study rooms, and tables located all throughout the facility. You may even find yourself running down to Hava Java, ORU's on-campus coffee shop, located directly below the Library to get a coffee during a study break.
If you are interested in learning more about the ORU Library and the services that it provides to you, visit their website.
Spiritual Success
UPRISE
UPRISE is a weekly Bible study and time of fellowship held in the International Student Center every Saturday from 8:00pm – 9:30pm. UPRISE is designed to serve the student body of Oral Roberts University by providing a space for Bible studies, prayer, and fellowship with international and local students. If you are interested in worshipping our God with other students from all over the world then UPRISE is for you!

OGS Prayer Movement
Join the International Student Center and Office of Global Service as we partner with Prayer Movement as we intercede for the nations.
Feel free to join us every Thursday in the Prayer Tower Auditorium from 6:00pm – 7:30pm. There will be live worship, and a time of student lead prayer by international and local students from ORU.
GLO
The Global Leaders Organization (GLO) is a student lead organization. GLO is designed to develop high-quality leaders with a globally and internationally focused drive in order to see the world transformed with God's healing power.
GLO provides a platform for students to practice and develop leadership, and to be equipped to change their world. In collaboration with the International Student Center Staff, GLO leaders will help plan, coordinate, and execute various international events and initiatives throughout the year. Whether that is by providing services, such as taking international students to and from Walmart, or by helping coordinate Culture Fest, GLO seeks to serve the student body of ORU. GLO is a great opportunity for all students to gain leadership experience and developing a deeper global awareness while interacting with nations from all over the world right here in Tulsa, Oklahoma.
If you are interested in applying to become a GLO leader, please fill out the online application.
ORU Family Connect
We understand that it is difficult to be thousands of miles from your family, surrounded by people that only speak your second language, and that you might not be able to go home over breaks and holidays. That's why our goal with ORU's Family Connect is to link international students with local families during the semester breaks and holidays. Whether it is during Fall Break, for Thanksgiving dinner, the International Family Connect is focused on providing you with a place to call home while studying at ORU.
We believe that this is an incredibly opportunity for families all around the US to learn about culture, to become more globally aware, make new memories, and to support God's call on the lives of students from all around. Families have the opportunity to join the mission of ORU to raise up spirit-empowered leaders to take God's healing power all around the world.