The Writing Center at ORU is a free service. It is intended primarily for students in composition classes, but is available to any ORU student who needs help with academic writing. It is located on the 5th floor of the library, and is open M-F 8:45am – 5:00pm. Walk-in assistance is available on a limited basis, but students are recommended to make an appointment. To make an appointment:
Select "New Appointment"
Select Center "Writing Center"
Select Service "Virtual Tutoring-Zoom"
Select the Subject area, for example, "Composition I."
View available tutoring times and pick the date and time. Comp 101 students should select the "recurring time" option.
Confirm your appointment
Look in your email for an appointment confirmation.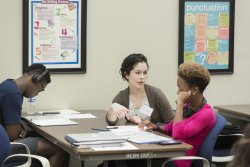 At the Writing Center, tutors will work with you individually to help you improve your writing skills. This generally involves reading over a paper together with you, identifying areas you can improve, and providing suggestions for further practice. Since this process is most effective during a face-to-face meeting with a tutor in the Writing Center, you may not drop off a paper (either in hard-copy or electronically).
Also, keep in mind that the tutors do not proofread your paper line-by-line, nor do they correct mistakes for you. For example, a tutor might point out a pattern of errors in the use of commas, look at one or two examples with you, and then let you revise the rest of the essay.
Other Services Available
Writer's Workbench: This computer program is installed on 10 computers in the Writing Center, and is available to any ORU students on-site. The program identifies areas you may need to polish, such as punctuation, or overuse of the verb "to be."
Many self-help tutorial exercises are available in hard-copy at the Writing Center. Students can complete these exercises on their own, and then go over their answers with tutors.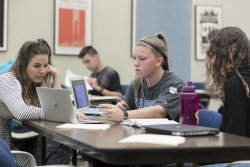 Tutoring positions are open for students who:
are eligible for work study;
have demonstrated superior academic writing skills; and
are interested in mentoring fellow students.
If you are interested in becoming a writing tutor, please contact Prof. Barbara Law at blaw@oru.edu or at (918) 495-7013.