Students interested in taking on-campus dual-enrollment courses through ORU's Advantage Program may choose any 100 or 200 level courses available to current ORU students. Advantage students may petition to take higher level courses if needed. Most students will enroll in one to two courses. The maximum number of hours permitted during one enrollment period is six.
If you are unsure which classes will help you get ahead, here's a list of General Education courses that are required of all undergraduate ORU students. This is a great place to start!
Composition 102 and 303 (3 hours each)
Humanities 102, Christian Worldview & Culture (3 hours)
Humanities 222, 233, 244, 333 or MAT 315 (3 hours)
Two Humanities Electives (3 hours each)
Theology 103 (3 hours)
Foreign Language 102 or 203 (3 or 4 hours)
Foreign Language 203 or 204 (3 or 4 hours)
Biblical Literature 110 and 120 (3 hours each)
Social Sciences Elective (3 hours)
Two Laboratory Sciences (4 hours each)
U.S. History 101
Mathematics 105 (3 hours)
American Government 101 (3 hours)
Oral Communications 101 (3 hours)
Health Fitness I and Health Fitness II (3 hours each)
How to search for college courses
1.) Go to vision.oru.edu and selected "Course Schedule."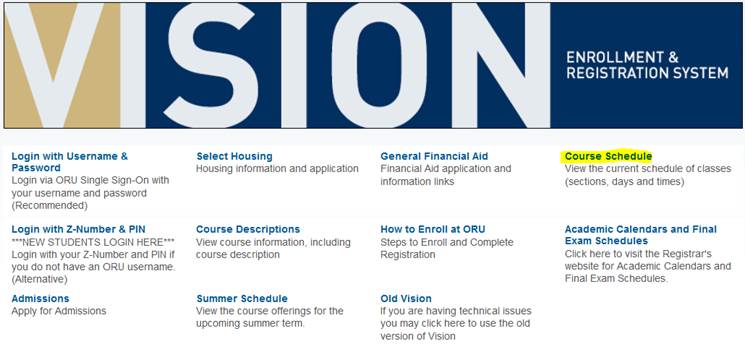 2.) Select a term (e.g. Fall 2016) then hit "Submit."

3.) Select the subject(s) you would like to explore.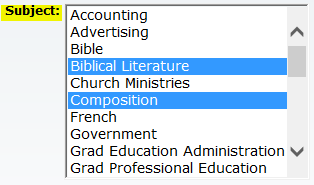 4.) View available courses offered in the subject(s) you selected. The fourth column states the course number (e.g. 110). Advantage students can take 100 or 200 level courses. If you are interested in taking a higher level course, you will need to speak with the On-Campus Advantage Enrollment Counselor.