In every music therapy treatment, music is used as a tool to reach nonmusical goals, whether physical, cognitive, emotional, social or spiritual. The techniques used during sessions are based on research and extended collegiate study. Among many possible goals addressed by music therapists might be: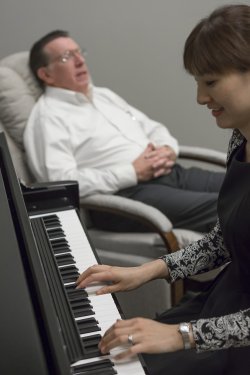 Increasing memory recall
Improving motor coordination
Increasing attention to task
Improving steadiness of gait
Improving speech and communication
Increasing reality-based thinking
Decreasing anxiety
Decreasing pain
Adjusting mood
Developing bonds among family members
Increasing coping skills
Watch a 13 minute documentary on the Healing Power of Music here.