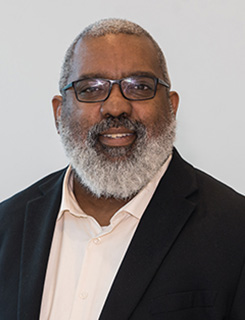 Mr. Stuart Greaves currently serves as the Vice President of the Global Prayer Division at the International House of Prayer - Kansas City (IHOPKC), in Kansas City. At IHOPKC, Greaves gives oversight to the prayer division, which serves the Global Prayer Room. For 19 years, he has served on the "NightWatch" from midnight to 6 a.m. in the Global Prayer Room. He is also the founder of the Justice Institute at International House of Prayer University (IHOPU). Before beginning with IHOPKC in 1999, he was a Campus Staff worker with Intervarsity Christian Fellowship.
Greaves was born in the Netherlands, grew up in Suriname and attended high school in Curacao and Venezuela. He holds a B.A. in Church Ministries from Southeastern University and a Master of Science in Education, Media Design and Technology from Full Sail University in Orlando, Florida. He is also a licensed pilot.
With a vision to see Christ revealed by the Holy Spirit to the depths of peoples' hearts, Greaves travels nationally and internationally, teaching on the forerunner message, intercession and the knowledge of God. He is the author of two books, "The Existence and Attributes of God" and "False Justice". He is married to Esther, his wife of 20 years and resides in Kansas City.