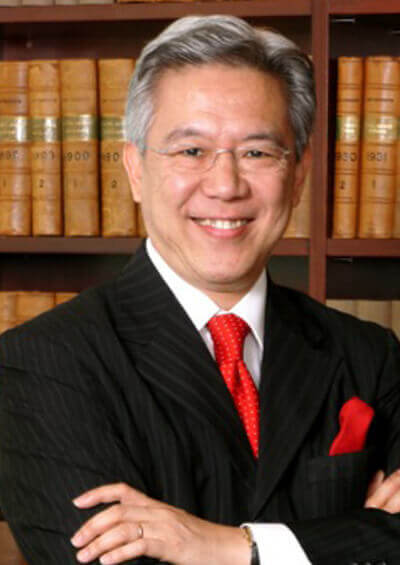 Dr. Hugo S.K. Chan is a Hong Kong-based lawyer, entrepreneur, lay pastor, media personality and marketplace leader. He is the partner of the law firm of Liau, Ho and Chan, specializing in Land Developments, Commercial and China Matters. Dr. Chan is an appointed Attesting Officer of The People's Republic of China and is also a Notary Public. Dr. Chan is Chairman of A R Evans Technology Partners Limited, a company focusing on technology co-operation between China, Hong Kong and Israel, and Chairman of Mugan China Limited.
Dr. Chan graduated from the Faculty of Law at the University of Southampton in England in 1978. Prior to joining the firm of Liau, Ho & Chan as a partner, he served his articles and worked as a solicitor with Messrs. Johnson, Stokes & Master between 1979 and 1986. He joined this firm as a partner in April 1986. Dr. Chan was admitted a solicitor of the then Supreme Court of Hong Kong in 1981, a solicitor of the Supreme Court of England and Wales in 1986 and a barrister and solicitor of the Supreme Court of the Australia Capital Territory in February 1991. He has obtained a Post Graduate Diploma in China Law at the East Asia University of Macau. Dr. Chan's major areas of experience are Property, Corporate and China related matters.
Dr. Chan is one of the Founding Elders of The Praise Assembly, a local Cantonese marketplace church which has grown from one House Meeting to over 4,000 people with 8 district churches in Hong Kong. In 2007, Dr. Chan was elected with the highest number of votes as one of the members representing the Christian Sector in the Election Committee of the Chief Executive of Hong Kong Special Administrative Region. Since 1982, Dr. Chan has been a leader in the Full Gospel Business Men's Fellowship International in Asia, China and Hong Kong. FGB is an evangelistic movement for people in the workplace to bring people to the Lord by sharing testimonies at offices and restaurants. Dr. Chan is presently the National Director of FGBMFI in Hong Kong and Deputy Chairman of the Steering Committee of the Full Gospel Global Forum (www.fgb.com.hk).
Dr. Chan is the Founding Vice-President of the Hong Kong Professionals and Senior Executives Association, which is a 600 member political advisory group consisting leaders from key professions, CEOs and entrepreneurs, leaders from universities and ex government officials ( www.hkpasea.org ). The Association organizes activities and produces periodic reports to assist the Government on policies regarding the economical, cultural and political developments of Hong Kong and to foster a greater communication between counterparts in China. In recognition of his contributions to the Christian and business sectors as well as the community, Dr. Chan was conferred an Honorary Doctor Degree of Letters (D. Litt.) by the Olivet Nazarene University, USA.