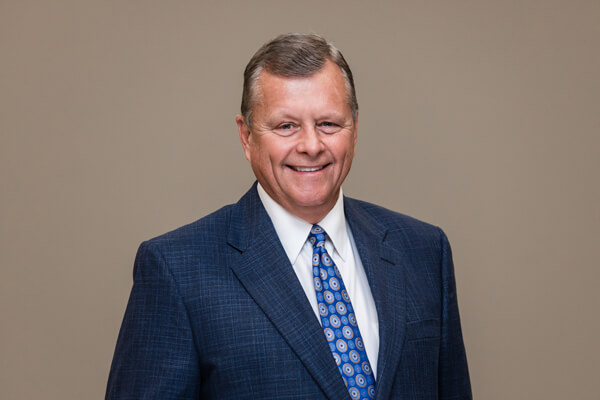 Brad Thomas joined Inter-Chem as manager of operations in 1985, with duties including chartering ocean vessels, cargo operations, documentation, and collections. Prior to joining Inter-Chem, Thomas was Hewlett Packard's national account sales manager for Phillips Petroleum Co. In 1987, he joined the international marketing team and was responsible for Inter-Chem's Central and South American fertilizer sales and sourcing.
Immediately following the dissolution of the Soviet Union in the 1990's, Thomas traveled extensively through Russia and Ukraine as well as North Africa developing fertilizer supply for Inter-Chem's operations in North and South America.
In 2000, Thomas was named Inter-Chem's Executive Vice President and with responsibility for all of Inter-Chem's overseas activity, as well as Inter-Chem's newly formed joint-venture fertilizer retail operation in Brazil. From 2000 - 2006, annual sales volume in the Brazilian operation grew from 30,000 tons to 350,000 tons of fertilizer products annually.
In 2006, Thomas was named President & CEO of Inter-Chem. In this role, he has overseen the transition of Inter-Chem to a 100% employee-owned company as well as Inter-Chem's growth in its business base.
Inter-Chem is a trading, distribution, and logistics company with its roots in the plant nutrient industry. The company is headquartered in Tulsa, Oklahoma. Inter-Chem's distribution encompasses the Mississippi River basin from Louisiana to Wisconsin. The company is involved in fertilizer and sulfur marketing and logistics, residual and intermediate fuels trading and logistics, and petroleum coke and coal trading. Inter-Chem owns and operates Ozark Steel LLC, a steel processing service company based in Tulsa. Inter-Chem is co-owner of Ameriglobe LLC, a manufacturer of flexible intermediate bulk containers headquartered in Lafayette, La.
Brad has been married to Brenda (ORU '79) for 37 years. They are parents of two adult daughters (both ORU graduates) and now enjoy five grandchildren. He earned a BS in Computer Science ('77) and an MBA ('79), both from Oral Roberts University. He holds a certificate in ocean chartering from the Association of Ship Brokers and Agents. He actively serves on the boards of SpiritLife Church, Oklahoma Department of Transportation Waterways Advisory Board, the Oral Roberts University Golden Eagle Club, and India Practical Missions.