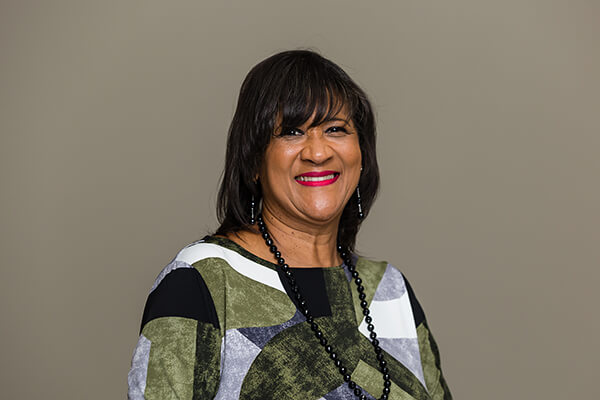 Angela Marie Evans, President and Chief Executive Officer of Crenshaw Christian Center, is believed to be one of the first women and daughters of a minister to sit at the helm of one of the country's largest and oldest mega churches. As President, she has oversight of a multimillion dollar budget. She is responsible for a large church membership; four schools; a worldwide television ministry; almost 200 employees in 13 divisions; 1,500 volunteers in over 17 helps ministry departments; and operation of the famed Faithdome that has become a landmark and host to many prodigious events.
Born to Frederick and Betty Price, Angela grew up in a loving Christian home. After graduating from Hamilton High School in 1974, Angela attended West Los Angeles Community College briefly, however, being the proverbial "daddy's girl," an opportunity presented itself for her to assume the position of Church Secretary serving her father. She had planned to transfer to a four-year university to complete studies in Business Management, however, she ended up on a different path.
Thus her career at Crenshaw Christian Center began in 1975. Although young, she was efficient and adept in clerical and office procedures. A natural leader, she earned several promotions. As the Ministry began to grow, in 1987, Angela enrolled in a one-year, intensive Management Effectiveness Program that was sponsored by the University of Southern California Graduate School of Business Administration, which she completed in May 1988. Upon completion of this program, she was promoted to Executive Vice President. Prior to that, she had served as Executive Secretary/Office Manager and Executive Administrator. In 1996, she was promoted to President and Chief Operating Officer. Angela's shrewd judge of character; a strong work ethic; and regular demonstration of compassion and sensitivity had led to her advancement. Angela has expressed that working for what she believes to be one of the greatest Generals in the body of Christ, her father, Apostle Frederick K. C. Price, has been greatly rewarding and humbling. He is the Founder of Crenshaw Christian Center and Ever Increasing Faith Ministries. She is now serving a second generation; her younger brother, Frederick Price, who now presides as Pastor. During her tenure, she has developed a formal Human Resources Department, employee benefits packages, and best practices with H.R. and other administrative departments.
In 1985, Angela along with her parents, co-founded the Frederick K. C. Price III Preschool, and in 1986, the elementary, middle and senior high schools. The schools are named in memory of her deceased older brother. She also chairs the Education Advisory Board for the Schools. Today, Price is the only viable Christian school remaining in operation in Los Angeles. There are only a little over 250 students enrolled in all of the schools, and Frederick K.C. Price III Christian Schools boast 100% matriculation into 4-year universities. Because of her vision to provide a quality education in a Christian environment, in June 2013, Angela was presented the Ford Freedom Unsung award in education by the Ford Motor Company.
Other achievements throughout Angela's 40-year career include such publications as Who's Who in Religion and Outstanding Young Women of America. She has been a member of Town Hall Los Angeles and the American Management Association. Over the years she received several awards and recognitions such as the California Legislature Assembly; Member of Congressional Certificate of Special Recognition; and City of Los Angeles, to name a few.
Angela's civic involvement includes being named the 2004 Division 2 Honorary Fire Chief, which resulted in her (the Ministry) adopting an entire battalion of fire stations. It was the first time this had been done in the inner-city and by a church rather than a secular corporation. In response to her mother, Dr. Betty R. Price's desire to see the blighted areas around the church improved and a renaissance to take place in what was once a beautiful part of the city, Angela established a Community Development Corporation - the Vermont Village CDC - and is the President and Chair of its Board of Directors. She also serves as Corporate Secretary on the Board of the Fellowship of International Christian Word of Faith Ministries (FICWFM), a ministerial organization founded by her father in 1990. In 2006 Angela had an amazing experience as she agreed to serve as second in command, at the behest of Dr. William Wilson, now President of Oral Roberts University, when he took the helm of the Azusa Street Centennial, a landmark event. Says Angela, "working under this man of God was most rewarding and humbling as he is a world-class leader."
Though Angie's focus in the past decades has been to "serve tables," she has a unique calling and passion as a Minister in her own right with a burden for women who are in bondage to overeating, sexual abuse, promiscuity, low self-esteem, loneliness, or simply dealing with the everyday challenges of marriage and motherhood. Her love for the Word of God propels her to teach with accuracy and passion to lead people out of destructive lifestyles and mindsets so they can go on to live productive, victorious lives to the glory of God. Her passion to encourage leaders in the church has inspired Missionaries, Pastor's wives, single mothers, daughters, PKs, and generally anyone in need.
Angela is a Missionary at heart and has accompanied her parents on many missionary journeys, as well as having established several missions bases in several nations of Africa.
Angela is a strong proponent of family. Angela has been married to A. Michael Evans, Jr., for 40 years. He is the Vice President of Marketing at Crenshaw Christian Center and the famed Ever Increasing Faith Television Ministry, which was established in 1978. She has a son, Alan Evans, a daughter Adrian Evans. Alan is married to Carrie, and they have three beautiful boys, Akira, Atreyu, and Anthony.